---
HUGO VAN DER MOLEN'S
Scripophily site
a collection of historic bonds and shares
---
Latest Acquisitions: France
(update: September 23rd 2017)
Dr. Hugo H. van der Molen - Wederikweg 114 - 9753 AE Haren, The Netherlands
Tel: +31 (0)50 534 8795; email: hugo@hugovandermolen.nl
---
See page on explanations, sales conditions, costs of shipping and on how to order and to pay.
Paypal accepted

You are here: home - scripophily - latest acquisitions: France
---
---
L'Oreal,

Paris, 1971, 8,75% Obligation de 500 Francs au porteur,

avec coupons 5-18, annulées. ca. 20 x 27 cm

Imprimerie spéciale de banque, Montreuil

condition UNC, prix: € 75.

The company started in 1909 as producer of hair colouring shampoos. Liliane Bettencourt started working in the factory of her father at the age of 15 gluing labels on bottles. When her father, Eugène Schueller, died in 1957, Liliane inherited the company. In 2016 L'Oréa's turn over was about € 25 billion and Liliane still owned one third of the company. In september 2017 she died as the richest woman in the world. Earlier that year, L'Oreal sold their subsidiary The Body Shop, with 3200 establishments world wide, of which ca. 30 in The Netherlands, to the Brasilian Natura Cosméticos.

Cocteau, Jean


République Francaise - Emprunt d'État 1982, 16,2%, 2000 F, Paris 8-1-1982, with coupon sheet attached.

Beautifully drawn woman's head (see picture) by Jean Cocteau, probably his version of France's national symbol, Marianne.

(Waarschijnlijk Cocteau's versie van Frankrijk's nationale symbool Marianne: zie hier en hier bij Wikipedia)

condition EF, but some tiny staple holes, price: 75 Euro.

The Parisian Jean Cocteau (1889 -1963) was the first true multi-media artist. He was not only well known as a film director (e.g. in 1946 La Belle et Le Bête = The Beauty and The Beast, after Madame Le Prince de Beaumont's book in 1757), but is also widely known in poetry, fiction, ballet, opera, painting and illustration. See further: www.jeancocteau.org
---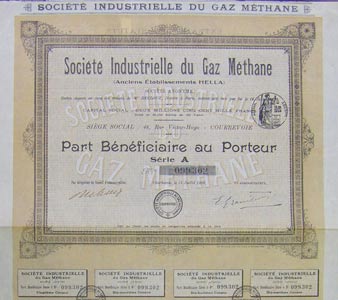 Société Industrielle du Gaz Méthane (Anciens Établissements HELLA)
Courbevois (Fr.), 1909, Part Bénéficiaire au porteur, Série A; Ca. 19 x 24 cm + Art Nouveau borders and coupons; Imp. Maljean, Paris, condition: one horizontal fold near bottom, price € 25.
---
L'Abeille
Sociëtë Anonyme de Constructions Mecaniques et de Machines-Outils (Nord)
Constitué en 1906; Action de 200 Francs au porteur; Louvroil, 1924;
Blue border, orange Dutch tax stamp and a French tax stamp; 21 x 31 cm.; condition VF; price € 35.



Fransch-Javaansche Exploitatie Maatschappij, N.V./ Société de Culture Franco-Javanaise S.A.
Founded in 1912 in The Hague (The Netherlands) and administrative seat in Paris / Siège social à La Haye et Siège Administratif à Paris. 16 x 24 cm., coupon sheet attached; they were in the oil business:
---------- 1/10e aandeel aan toonder van f 100 / 1/10e Action au porteur (1/10th share of DGL 100 to bearer); Blue border on green, red French printed tax stamp, condition VF: unfolded but many tiny needle holes, price € 50.
--------- 1/100e Oprichtersaandeel / 1/100e Part de Fondateur (1/100th Founder Share); brown border on beige; condition VF: many tiny needle holes and various traces of usage; price € 35
---
You are here: home - scripophily - latest acquisitions: France