---
HUGO VAN DER MOLEN'S
Scripophily site
a collection of historic bonds and shares
---
Mijnbouw Maatschappij "Bwool"
(update: October 8th 2008)
Dr. Hugo H. van der Molen - Wederikweg 114 - 9753 AE Haren, The Netherlands
Tel: +31 (0)50 534 8795; Fax: +31 (0)50 534 0852; email: hugo@hugovandermolen.nl
---
See page on explanations, sales conditions, costs of shipping and on how to order and to pay.
Paypal, VISA, Euro-Mastercard & American Express cards are accepted

You are here: home - scripophily - mining - Mijnbouw Maatschappij "Bwool"
---
Mijnbouw Maatschappij "Bwool"
Established in 1897 in Amsterdam (NL) with a capital of 4.7 million Dutch Guilders: 4000 ordinary shares and 1400 Preferred Shares of 500 Guilders.
I know little of this company, so anyone who knows more is invited to share his or her knowledge with me.
The city of Bwool, usually written as Boeol (in the landscape of Boeol), lies at the mouth of the river Boeol where it streams into the Celebes Sea. When I read maps well, it lies at 121,5 degree Northern length and 1 degree Northern breadt on the North Island of Celebes and then in the north-west. It lies about 70 km's West of Palèlèh. The landscape Boeol has 3 districts: Palèlèh, Biaoe and Boenobogoe.
The 1921 consize encyclopedia of Dutch East Indies, mentions on page 91 that in the early years, the population of Boeol was digging for gold in the quarz layers and riverbanks. But ever since the minig company Palèlèh was established there, the population no longer digs for gold.
So, it may very well be that Mijnbouw Maatschappij "Bwool" was in the gold digging business, but I am not sure.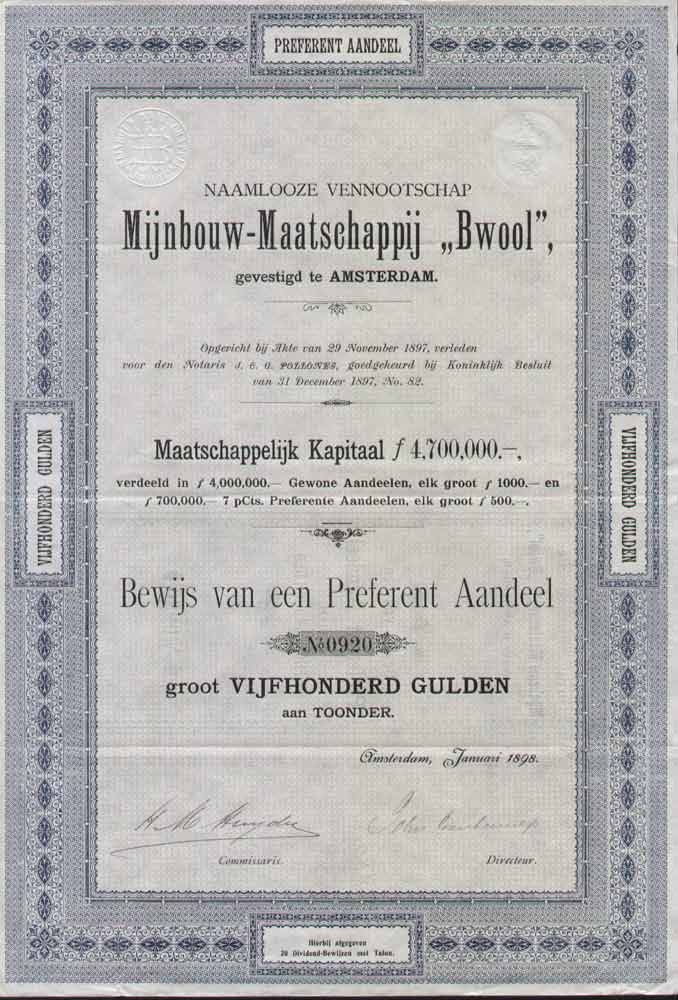 Bronnen:
Bezemer, T.J. (1921) Beknopte Encyclopaedie van Nederlandsch-Indië, 632 p.; Leiden: Brill en 's Gravenhage: Martinus Nijhoff (alleen antiquarisch te verkrijgen).
De Grote Atlas van Nederlands Oost-Indië, 2e uitgebreide editie, geeft naast het indrukwekkend aantal van 530 topografische kaarten tevens de namen en korte beschrijvingen van 2400 cultuurondernemingen, met van elk een korte beschrijving. Dit 8 kg. zware boek telt 480 pagina's, meet 33 bij 46 cm. en is 6 cm. dik. ISBN: 90 74861 24 5; prijs 265 € excl. verzend kosten.
Uitgeverij Asia Maior / KNAG, 2004; email: www.asiamaior.nl en fax: 0111 417 281.
Warm aanbevolen !!, maar helaas alleen nog antiquarisch te verkrijgen (dus niet bij mij !)
English Translation:
The large Atlas (Map) of Dutch East India, 2nd extended edition, gives, besides the impressive number of 530 topographic maps, also the names and short descriptions of 2400 cultivation companies, with a short description from each. This book weighs an impressive 8 kilo (ca. 18 pounds) and has 480 pages, measuring 33 by 46 cm (13 by 24 inches) and is 6 cm (2.4 inches) thick. This 2nd edition was sold out quickly in 2004 and can only be bought through antique book shops. It costed € 265 originally. Publisher: Asia Maior / KNAG, 2004; email: www.asiamaior.nl and fax: +31 (0)111 417 281.
---
You are here: home - scripophily - mining - Mijnbouw Maatschappij "Bwool"