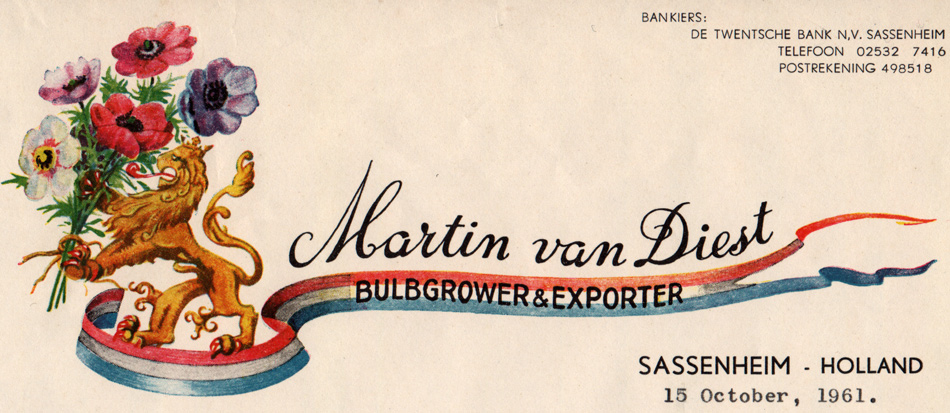 ---
HUGO VAN DER MOLEN'S
Historic Papers site
a collection of historic invoices and letters
een verzameling historische rekeningen en brieven
---
Flower illustrations
(update December 16th 2012)

Dr. Hugo H. van der Molen - Wederikweg 114 - 9753 AE Haren, The Netherlands
Tel: +31 (0)50 534 8795; email: [email protected]
---
Ordering information / Bestelinformatie
---
Belgium
Marcel Acke-Wens
Kruidenierswaren - Epiceries en gros
Brugge, Maagdenstraat 11, Belgium: rekening 1952; 2 afbeeldingen in rood/zwart/wit:
1 van 3 bij 4 cm: een zwaan met tekst: "De Brugse Zwaan"
1 van 3 bij 3,5 cm, van een roos, met tekst: Koffie / Cafe Moreeuw
Brandvlekken (niet door afbeelding) en 1 nietjes-spoor; 9 Euro
---
---
France
Jn. Giraud Fils
Parfumerie au principe des fleurs; Parfumeur- Savonnier- Distillateur
Grasse (Fr.- Alpes Maritimes); lettre des affaires / business letter (21 by 27 cm.) from 1911 to the Nederlandsche Handel Maatschappij; beautiful engraving (9 by 10 cm) of Grasse and the perfume factory, decorated with flowers and medals from contests; 2 light folds, no defects, price 95 €.
---
---
The Netherlands
---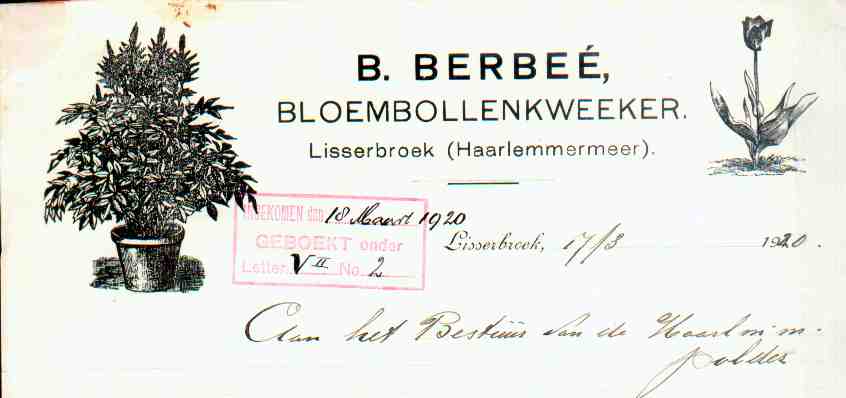 B.Berbeé, bloembollenkweker (Engl: flower bulb nursery)
Lisserbroek (Haarlemmermeer), 1920: brief aan het bestuur van de Haarlemmermeerpolder om veen af te mogen graven voor brandstof, met aangehecht de toestemmingsverklaring van de Dijkgraaf en Heemraden van de Haarlemmermeerpolder, met afbeelding van een potplant en een tulp.; 50 Euro.
English: Company request to the polderboard to dig peat for fuel purposes with letter of consent of this polderboard from the Haarlemmermeer (where Schiphol airport is located).
---
---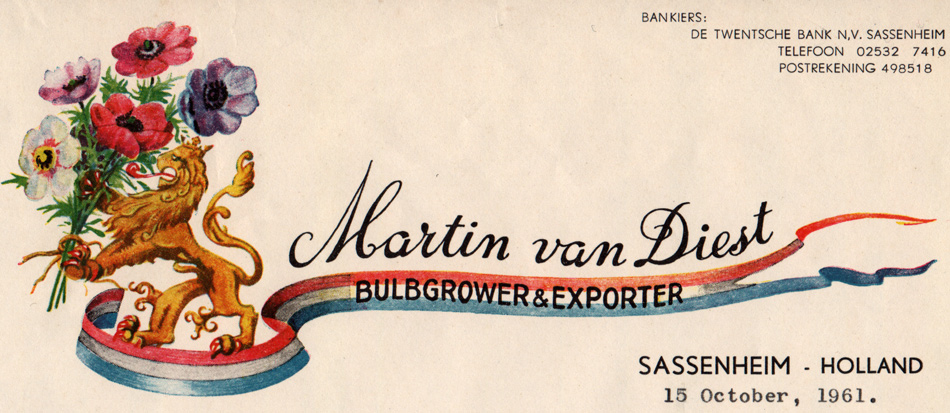 Martin van Diest
Bulbgrower & Exporter, Sassenheim-Holland
Fraai geïllustreerde rekening uit 1961, conditie heel mooi: 2 lichte horizontale vouwen en rechts boven genummerd met pen. Prijs € 75.
---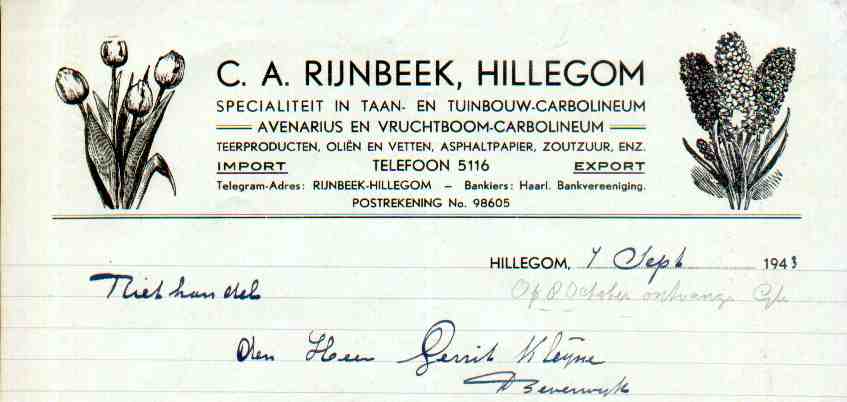 C.A. Rijnbeek, Hillegom
Specialiteit in taan- en tuinbouw-carbolineum, avenarius en vruchtboom-carbolineum, teerproducten, oliën en vetten, asphaltpapier, zoutzuur, enz., import, export;
Hillegom, 1943, company letter; 2 pictures (3 by 4 cm) of a bunch of Tulips and a bunch of Narcissi (NL: Narcissen); 75 Euro.
---
C.S. Weijers Junior
Bloembollenkwekerij en -Handel
Hillegom, 1943, rekening voor 2000 bollen Gladiolen Vredenburgh;

4 x 5 cm. afbeelding van een bos Narcissen;

conditie VF: 2 archiefgaten en div. malen gevouwen, verder geen gebreken.

Prijs: € 50.
---
Zie ook onze pagina met afbeeldingen van de Godin Flora op rekeningen / See also our web page with illustrations of the Goddess Flora on old invoices.