HUGO VAN DER MOLEN'S
Scripophily site
a collection of historic bonds and shares
---
Mickey Mouse
(update: 31-1-2021)

Dr. Hugo H. van der Molen - Wederikweg 114 - 9753 AE Haren, The Netherlands
Tel: +31 (0)50 534 8795; email: [email protected]
---
See page on explanations, sales conditions, costs of shipping and on how to order and to pay.
Paypal accepted
postage and packing: Netherlands 5-7 Euro; Abroad: 9 Euro

You are here: home - scripophily - Mickey Mouse
---
France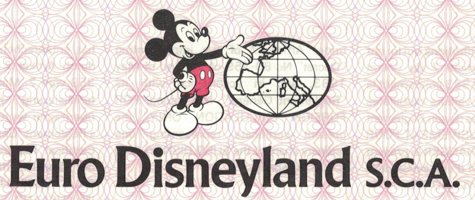 Euro Disneyland S.C.A., issued in Paris, France, but only for circulation outside France.

Certificat representatief de 1 action, Paris 1983, (certificat of 1 share to bearer of 10 French Francs), titre au porteur, (uncancelled and still traded on the stock exchange; this share certificate goes without dividend coupons, however, view small vignette of Mickey Mouse in red pants, pointing at a globe. Price 10 Euro.

Condition: UNC (almost printer-fesh), a beautiful stock to frame and give away or hang on your own wall, despite it's simple design.

After heavy financial losses in its first years of operation, restructuring led to the reduction of the value of the stock from 10 Francs to 5 francs (and the name was changed in Paris Disneyland). Most pieces offered on the web have an ugly stamp describing this reduction of nominal value, right next to the picture of Mickey Mouse. The piece offered here is the original clean stock !!!!!




As of Febr. 2018, 320 million persons have visited the park and the number of employees is now 16.000. The Saoedian prince Al-Waleed has sold back his 10% of the shares to the Walt Disney mother company in 2017. They always held the majority of the shares. Paris Disney has been making losses for several years now, amounting to even € 858 in 2016. In february 2018 it was announced that the mother company is going to invest another $ 2 billion in expansions of the park, starting in 2021 with a new lake and 3 additional areas, showing the animation film Frozen, a Star Wars-universum and Marvel super heroes like the Hulk and Spider-Man.
USA
The Walt Disney Company
incorporated under Delaware law; certificate of odd shares, USA 2002; print: Midwest Bank Note Co.; 31 by 20,5 cm.; facsimile signatures of secretary Reed and chairman Michael Eisner; 10 by 14 cm. picture of a blue fairy tail castle and a 7 by 17 cm area with engravings of Walt Disney and 14 strip-figures in full colour, UNC, unfolded, Sold out / niet meer te koop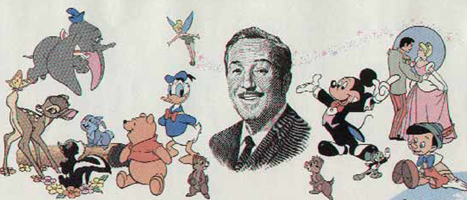 ---
See page on explanations, sales conditions, costs of shipping and on how to order and to pay.
You are here: home - scripophily - Mickey Mouse
---