---
HUGO VAN DER MOLEN'S
Scripophily site
a collection of historic bonds and shares
---
Mustard / Mosterd / Moutarde
(update: May 26th 2008)

Dr. Hugo H. van der Molen - Wederikweg 114 - 9753 AE Haren, The Netherlands
Tel: +31 (0)50 534 8795; Fax: +31 (0)50 534 0852; email: [email protected]
---
See page on explanations, sales conditions, costs of shipping and on how to order and to pay.
VISA, Euro-Mastercard & American Express accepted
postage and packing: Netherlands 5-7 Euro; Abroad: 7 Euro
You are here: home - scripophily - mustard
---
Luycks S.A. / N.V.
(famous from it's mustard and pickels!)
Aartselaar (B), 1964; Aandeel van 1000 Fr., no. 256 in kapitaal van 1.250.000 Fr.; Blue decorative border, complete coupon sheet attached; on inner side put in the name of Luycks Producten NV., te Diemen; ca. 22 by 32 cm.; printed by De Beurs, Borgerhout, price 35 Euro.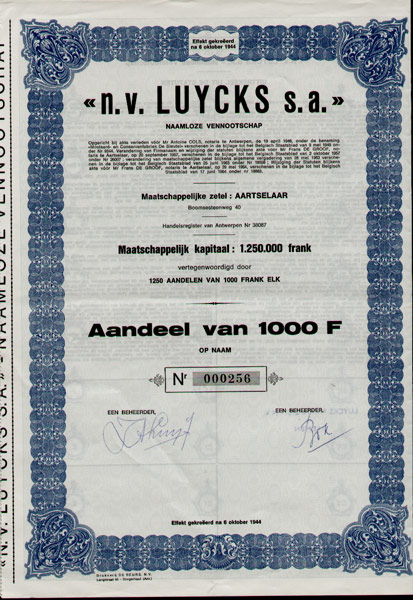 ---
See page on explanations, sales conditions, costs of shipping and on how to order and to pay.
You are here: home - scripophily - mustard
---