HUGO VAN DER MOLEN'S
Scripophily site
---
Art: Ottoman-Turkish / Balkan style
(update February 25th 2005)

Dr. Hugo H. van der Molen - Wederikweg 114 - 9753 AE Haren, The Netherlands
Tel: +31 (0)50 534 8795; email: [email protected]
---
See page on explanations, sales conditions, costs of shipping and on how to order.
---
Bulgaria / Bulgarije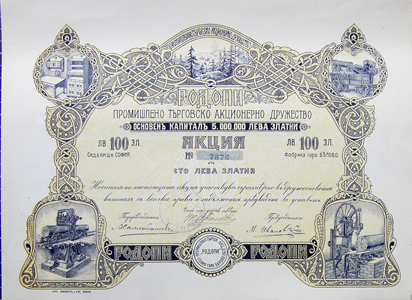 click for enlargement

RODOPI, beautifull share of wood company, 100 Leva, Sofia, 1917, size without coupons ca. 23 x 33 cm; price € 25.
Yellow and black, with Balcan style border. A beauty to frame !; EF: no folds and as new.
The company is named after the Rhodope Mountains, which run across southern Bulgaria. The saw mills and factory were in the town of Belovo, by the railway station on the Sofia-Plovdiv-Istanbul line.The 5 vignettes show the foothills of the Rhodope Mountains, as well as scenes of production (saw mills) and preparation, up to the finished products: chariots, cupboards etc. Source: Braun (1996a), p. 92.
---
Yugoslavia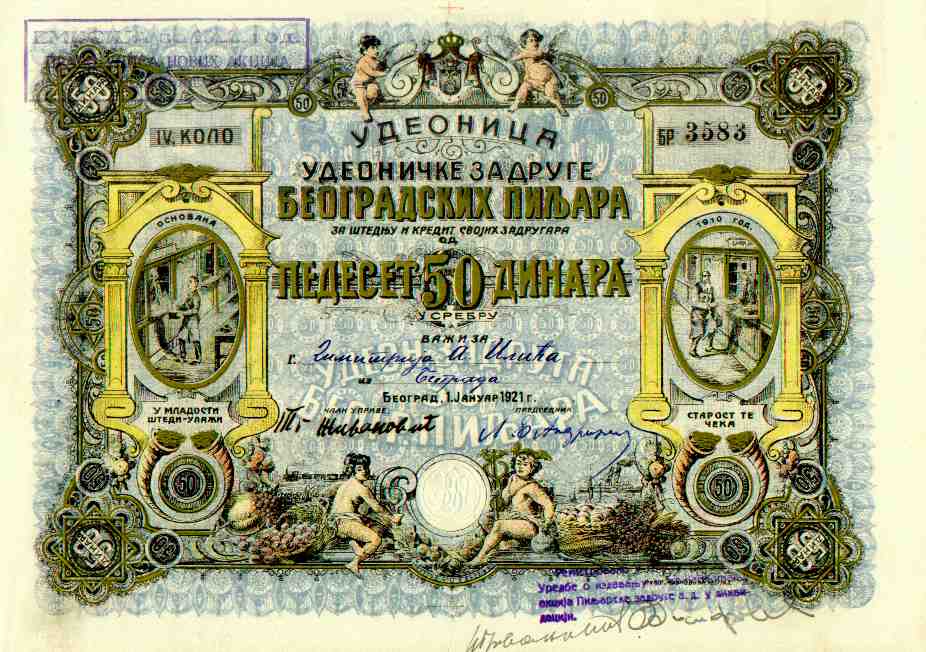 Belgrade Joint Stock Cooperative Market Vendors
Beautifully decorated stock in Balkan style and with gold print,
Similar to catalogue no. 1073: price indication 40-50- Euro.
---------- Belgrade, 1921, certificate of 50 dinars in Silver, EF, unfolded, 95 Euro.
---------- Belgrade, 1929, certificate of 250 dinars in Silver, EF, unfolded, 75 Euro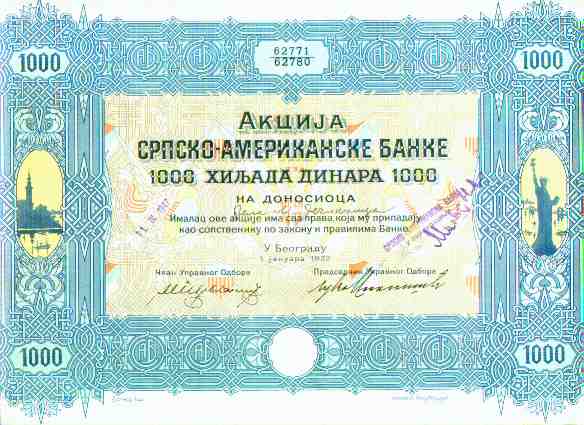 Srpsko Amerikanske Banke (Serbian)
Serbian-American Bank (English)
Servisch-Amerikaanse Bank (NL)
Beograd (Engl. Belgrade), 1922; certificate of 10 shares of 1000 Dinars; beautiful certificate (drawn by the architect Milutinovic) with blue ornate border, coats of arms, flags, and 2 vignettes of a) the Statue of Liberty in the Hudson Bay (New York) and b) a church at the border of the river Danube in Belgrade. Serbian catalogue (2001) price indication 30-45 Euro; our price 30 Euro.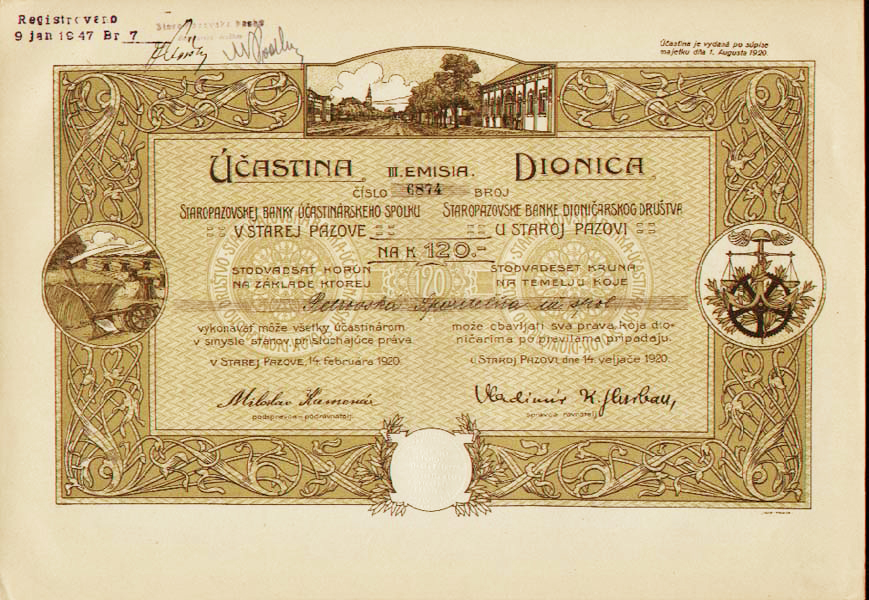 Stara Pazova Bank - Staropazoska Banka
Stara Pazova, 1920, Serbia / Servië; share of 120 Krowns (Austria-Hungarian) = 40 Dinar, 3rd emission, print: Unie Praha; size: 36 by 24 cm.; 3 pictures in very decorative (Balkan Style) border: a town, a grain field and symbols of economy; yellow, Serbian catalogue no. 736, EF: unfolded, price 25 Euro.
---
back to general scripophily home page