HUGO VAN DER MOLEN'S
Scripophily site
a collection of historic bonds and shares
---
National Provincial Bank
(update: April 9th 2012)

Dr. Hugo H. van der Molen - Wederikweg 114 - 9753 AE Haren, The Netherlands
Tel: +31 (0)50 534 8795; Fax: +31 (0)50 534 0852; email: hugo@hugovandermolen.nl
---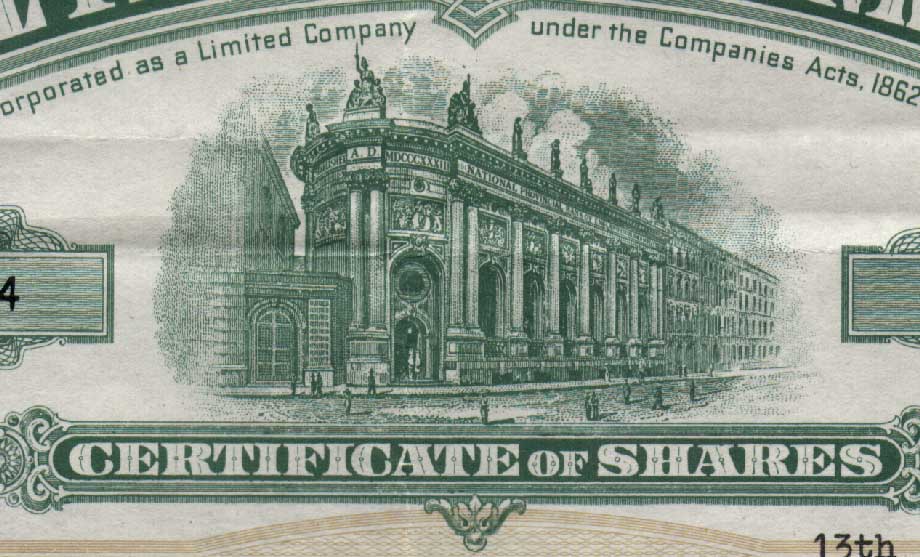 National Provincial Bank

National Provincial Bank was founded in late 1833 and opened its first branch at Gloucester in early 1834. It was conceived from the outset as a national bank, with branches across England and Wales, and by 1836 there were over 20 branches, stretching from Cardiff to Ipswich. The existence of a purely administrative office in London enabled National Provincial Bank to issue its own banknotes. The bank continued to expand by opening new branches and taking over local banking companies, and in 1866 a magnificent head office and banking hall was opened in the heart of the City of London. The branch network rapidly expanded across the capital and by 1900 the bank had around 250 branches. National Provincial Bank purchased a number of other banks during the 1920s including the private bank of Coutts & Co in 1920. In 1918 National Provincial Bank amalgamated with another major clearing bank, Union of London & Smiths Bank, operating thereafter as National Provincial & Union Bank of England. In 1924 this name was shortened to the National Provincial Bank. During the 1960s National Provincial entered merchant and off-shore banking and acquired District Bank and Isle of Man Bank. It merged with Westminster Bank to create National Westminster Bank in 1970.

Source:
Bob Kerstein, 2003 (www.scripophily.com)
---
---
available historic share certificate:

National Provincial Bank Ltd.
London, 1966; certificate of x shares in the name of Ingram Legge, liverpool; size 29,5 by 24 cm.; 7 by 4 cm. engraving of majestic bank premises; green border, print: Waterlow & Sons; 2 original signatures of director and registrar, price 75 Euro. Order here.
Founded in 1833 as a national bank with branches across England and Wales. It issued it's own banknotes. 250 branches in 1900; In 1970 merger with Westminster Bank to create National Westminster Bank. Read more about the bank's history.
---
See page on explanations, sales conditions, costs of shipping and on how to order and to pay.
You are here: home - scripophily - search by activity - banks world wide - UK - National Provincial Bank
---