HUGO VAN DER MOLEN'S
Scripophily site
a collection of historic bonds and shares
---
Coty - the famous French perfume maker
(update 15-2-2021)

Dr. Hugo H. van der Molen - Wederikweg 114 - 9753 AE Haren, The Netherlands
Tel: +31 (0)50 534 8795; email: [email protected]

en Facebook of Linkedin
---
COTY - The famous French perfume maker
Imagine going to the perfume counter and finding a row of plain, unlabeled glass bottles, without so much as a box to tell you what you're buying. Sure, you'd still be able to smell the perfume, but who wants to be reminded of a chemistry set every time she reaches for her favorite fragrance? Amazingly, until the early 1900s, perfume was sold just that way. No glamour. No elegance. It took an innovator to envision a bottle as special as the fragrance it contained -- it took a man named François Coty.
Coty, a descendent of a first cousin of Napoleon, was born on the French island of Corsica off the coast of Italy. Orphaned young, he was raised by a grandmother, who at one time had to pull him out of school because she could no longer afford the tuition. As he came of age, he accepted an appointment to serve as secretary to an influential Frenchman, a man who would help the newcomer to France adjust and meet all the "right" people.
Coty met one person who may not have been "someone" as far as high society was concerned, but who would make such an impression on the young man that his life would be changed forever. This person was a chemist who dabbled in making fragrance on the side, selling his own citrusy eau de cologne out of his shop in identical, cheap glass bottles.
Coty realized that fragrance was a luxury item. He felt this luxury could be reflected not just in the scent, but also in exquisite bottles, engraved labels, silk-lined boxes, papers, and wrappings. The young Coty had a refined sense for beauty as well as what the French call "a great nose," a highly developed sense of smell required of the best perfumers. Having learned fragrance-making during a year's study in Grasse, Coty set out to the essential oil houses, which manufactured the oils used in making fragrance, and convinced them to back him in his venture of creating new perfumes. He developed a small collection of floral fragrances, which were very popular at the turn of the century.
The story of how Coty actually managed to get the stores to carry his new perfumes is nothing short of legendary. At the Grands Magasins du Louvre department store in Paris, he tried in vain to convince the buyer to display his new fragrance, "La Rose Jacqueminot." Then, perhaps by accident, perhaps on purpose, Coty dropped one of the fragrance bottles on the floor. It shattered. Women in the area -- some claim they were hired by Coty for exactly this purpose -- excitedly demanded to know what the scent was and where they could buy it. The incident convinced the Louvre and all the other department stores in Paris to carry Coty's fragrances.
Coty's success lay not only in his excellent perfumes, but also in his packaging genius. He believed perfume should be sold as luxuriously as rare jewels. With this goal, he convinced Monsieur Lalique, who was enjoying great success as a jewelry designer, to design bottles for him. Lalique developed techniques of mass producing the elaborate bottles that were an important part of Coty's success. Other artists commissioned to design for Coty included Baccarat, a great glass maker, and Bakst, who is remembered for his work designing stage settings and costumes for the first Ballet Russe and for his design of the Airspun face powder box -- a design still used today.
Coty's perfume company was founded in 1904, and by 1910 he was already recognized as the #1 perfumer in the world. He attracted the elite of society, designing fragrances for imperial houses, including Nicholas and Alexandra of Russia. Once, a group of Imperial Russian grandees purchased several bottles of perfume from his salon and immediately emptied them on their collars.
By 1914, Coty was a wealthy man. His company's production slowed during World War I as all of France's manufacturing was directed toward the war effort. But at war's end in 1918, Coty's market suddenly expanded in the United States as American soldiers bought up beautiful French "souvenirs" to bring home to their wives, girlfriends, and mothers. The Coty name spread like wildfire across the U.S., not just in large cities, but small towns and rural areas as well.
Coty's business grew even more when he reduced the prices of his products to reach a wider market. Coty face powder had been sold in a leather box for the French equivalent of $2.50 -- very expensive at the time! Coty decided to remarket his high-quality Airspun powder in smaller, cardboard and paper boxes and sell it for $1.00. Airspun's popularity skyrocketed and is still the #1 selling loose face powder on the market. Encouraged by his success, Coty began making smaller bottles of his perfume and further expanded his sales. Coty made his first million in only four months with the successful "La Rose Jacqueminot." By the 1920s he had amassed in the thousands of millions -- becoming one of the richest men in the world. But despite his great business success, Coty was a personal enigma to those who knew him, as unique as his appearance suggested: he had light red hair, which he later dyed blonde; he wore an enormous sapphire ring; his left eye was animated, but his right was frozen, glass-like -- giving him more the expression of a butler than of a rich visionary.
The 1920s were a time a decadence and opulence, which many today remember only by the images presented in film, television, and books -- from "The Untouchables" to "The Great Gatsby." The real life success of François Coty proves that these representations are not so far from reality. He was said to collect mistresses and houses. He owned a chateau on the edge of the Bois de Bologne and a mansion to house his art collection on the Avenue Raphael in Paris . He had homes in Nice, in the Dordogne and Biarritz, as well as two in Corsica. But unlike Gatsby, Coty's mistress was his for the taking: his one true love was the perfume business, and he was to change it forever.
Source: www.scripophily.net, 1999
COTY companies:
From a Coty firm letter heading from France in 1935 it appears that there were at that time the following branches world wide.
1) Coty, S.A. au capital de 60 million de Francs,
siege social, 4 Rue Berryer, Paris
Maison de vente, Place Vendome, Paris
Bureaux et usines, Suresnes-Seine
Depots: Paris, Lyon, Marseille and Nice
2) Coty Inc. New-York
3) Coty Ltd. London
4) Coty S.A.I., Rome
5) Coty S.A.A., Buenos-Ayres, Argentine
6) Coty S.A.B., Rio de Janeiro, Brasil
7) Coty S.A.R., Bucarest
principal agencies: in Brussels, Geneva , Madrid, Vienna and Prague.
Later, Coty seems to have been taken over by the large US pharmaceutical firm Pfizer.
News on April 4th 2003:
Perfume house Joop! was sold by Wünsche A.G.to Coty Lancaster, Egana Goldpfeil and Strellson
News september 12th 2012:
Coty postpones Initial Public Offering. The French company, with head quarters in New Yor,k was planning to issue shares to the amount of € 750 million. Disappointing sales figures in the USA and Europe were reason to postpone the IPO.

News on febr. 2021:
Coty makes, amongst other things, lipstick for Gucci.
Due to the Corona-pandemia women used less lipstick and other make up during the year 2020. The stock price (NYSE symbol COTY) fell 16% upon that news on febr. 10th 2021. Coty stocks have performed rather badly anyway since february 2016: a gradual decline ftom about $ 30 to ca. $ 3 in oct. 2020. Their losses in 2020 amounted to ca. $ 700 million. They are now about to sell their majority share in Wella to investment fund KKR for about $ 4 billion.

---
I have several shares of Coty:
all depicting
Aphrodite (Gr.) / Venus (L.), Goddess of beauty and love; one of the 12 Olympic Gods.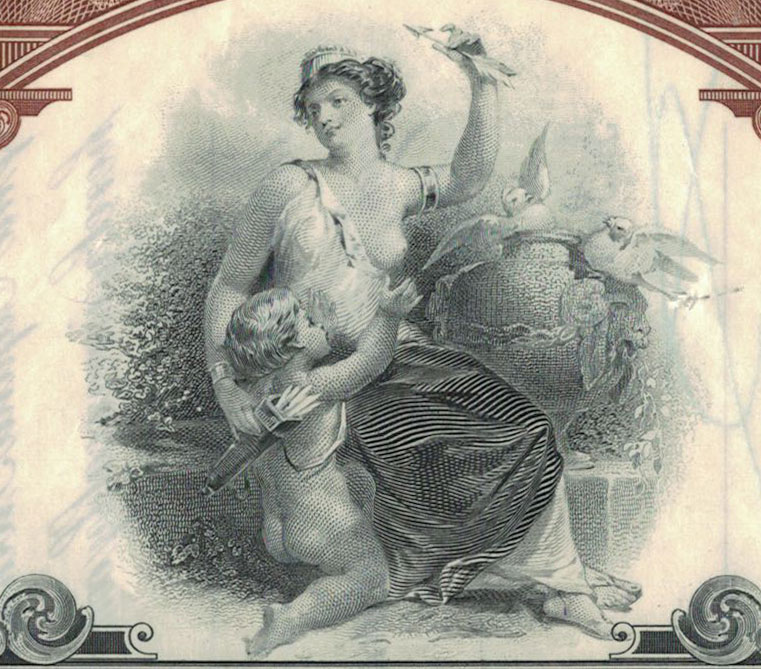 Coty, Inc.,
Incorporated under Delaware law, USA; 5 by 6 cm. engraving from the American Banknote Company: Aphrodite (L: Venus), the goddess of beauty and love, with her common attributes, 2 doves, and with her son Eros (L: Amor = Cupido), god of love, here depicted (as often by painters in the Baroc or Rococo period) as a chubby child. Aphrodite holds the attributes of Eros, the arrows.Venus is often synonymus for female nudity in arts, without mythological or symbolic meaning, but often with some conventional attributes, such as a mirror or a dove (source: Hall)
---------- 1930, 100 shares, blue border, unfolded, hole punched characters, price 50 Euro.
---------- 1937, < 100 shares, brown border, hole punched characters and other cancellation holes, price € 50.
---------- 1938, < 100 shares, brown border, hole punched characters and other cancellation holes, black overprint regarding a change in nominal value, price 50 Euro.
---------- 1949, < 100 shares, purple border, seal indicating Incorporation in Delaware in 1939. I am puzzled why it can be that similar shares (see above) date from before 1939; hole punched characters and several staple holes, price 50 Euro.
On the first engraving we see Eros reaching out for an arrow. When he hit someone with this, the person would fall in love.
---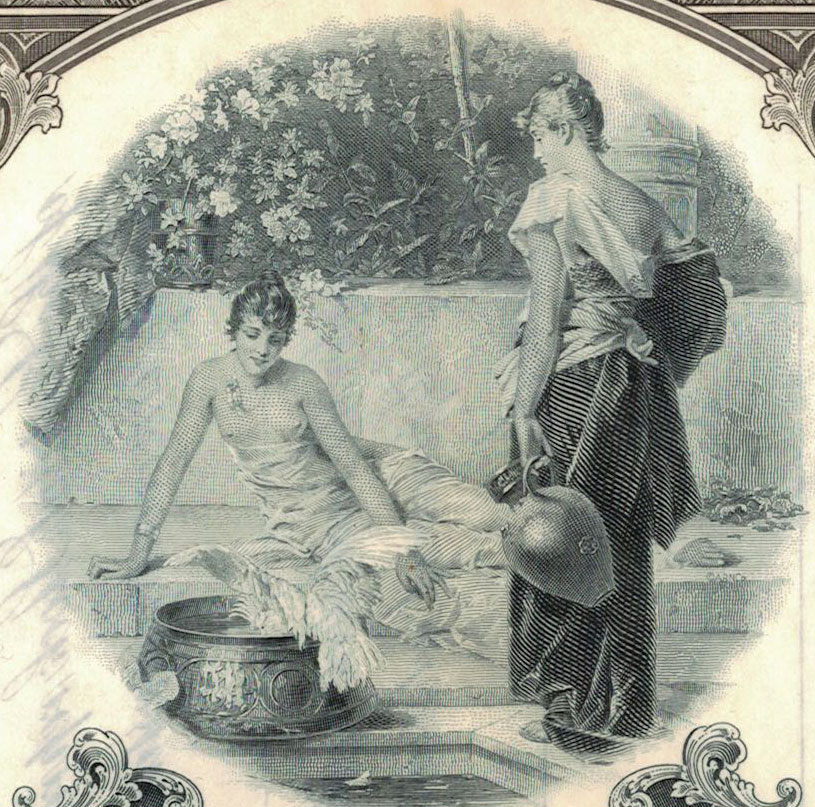 Coty International Corporation,
See Beautiful Vignette of semi-nude women sitting in a Turkish bath-garden with flowers, waited upon by a lady with a stone bottle. As there is also a white dove drinking from the water, the bathing women can be considered to be the Greek goddess Aphrodite (L: Venus), goddess of beauty and love, who has 2 white doves as common attribute. She is waited upon by one of the three Graces (NL: Gratiën), her loyal servants, who raised her in Cyprus after she was born from the sea. Print: ABNC
---------- 1940-er / 50-er, brown border, certificates of < 100 shares, hole cancelled, price 34 Euro.
---------- 1950-ies, 100 shares, red border, company perforations, price 50 Euro.
---
Literature:
Hall (1993), Hall's Iconografisch Handbook, Onderwerpen, symbolen en motieven in de beeldende kunst, transalated by Theo Veenhof, Leiden, The Netherlands: Primavera pers. ISBN: 90-74310-05-2
(Original title: Dictionary of Subjects and Symbols in Art, published by John Murray in London).

---
Back to Hugo van der Molen's scripophily site
Dr. Hugo H. van der Molen - Wederikweg 114 - 9753 AE Haren, The Netherlands
Tel: +31 (0)50 534 8795; email: [email protected]
---