---
HUGO VAN DER MOLEN'S
Historic Papers site
a collection of historic invoices and letters
een verzameling historische rekeningen en brieven
---
Belgium
(update 1-2-2022)

Dr. Hugo H. van der Molen - Wederikweg 114 - 9753 AE Haren, The Netherlands
Tel: +31 (0)50 534 8795; email: [email protected]

en Facebook of Linkedin

you are here: home - historic invoices - Belgium
---
Ordering information / Bestelinformatie
Email hier uw vragen of bestellingen
---
There are pieces from the following cities:
Aalst; Antwerpen / Anvers, Assenede; Bois d'Haine; Borghout-Anvers; Bruges / Brugge; Bruxelles / Brussel; Charleroi; Courtrai / Kortrijk, Gosselies; Liége / Luik, Malines, Mons; Onkerzelle; Opwijk, Sint-Niklaas, Vilvoorde

---
Places unknown:
Willem II sigaren
briefkaart uit 1968 met 2 Fr. gedrukte postzegel; 4 bij 4,5 cm afb. in meerkleurendruk, van 2 Delfts blauwe potten, 1 met rozen en 1 met een pot "Willem II, 25 cigars Fantastica + pot à 150 F"; VF: 2 vouwen in linker onderhoek; 25 Euro.

Aalst
Marcel van Nuffel, drukkerij, boek- en papierhandel
Aalst, Moorselbaan 51, 1953: rekening met bruine tekst en 4 cm ronde afbeelding in goud, bruin en rood; EF, met 2 archiefgaten links; 45 Euro.

Antwerpen / Anvers
Glacières Frigorifères & Entropsage d'Anvers-centre
(Gekoelde opslag in het centrum van Antwerpen)


Anvers, 2-7-1904, letrre / brief aan het Blauwhoedenveem (een beroemd pakhuisbedrijf), met over de hele breedte een afbeelding van een ijsbeer op een ijsschots in een ijslandschap.

Prijs € 50.

Pierre Arens,
Magasin d'Antiquités; Manifacture de Cuivres Artistiques Repousés Ciselés, fondée en 1870
Lettre, Anvers, 1922; 21,5 by 27,5 cm; 7 by 8 cm picture of metal objects, including a harnessed soldier, holding a weapon; condition VF-: some faint stains, in left border 4 archive holes, a fold and tears; price 45 Euro.

Assurantie Compagnie van de Schelde NV
van verzekering tegen zee, brandgevaar en ongevallen, gesticht in 1821, bureelen te Antwerpen; brief van een hoofdagent,. Bens-Smets, te Westerloo (B), geen afbeelding, prijs 5 Euro

C. van den Berg N.V.
import en export van overzeesch hardhout
Antwerpen, 1943; brief met 15 x 6 cm groene afbeelding van houtopslagplaats met werkende olifanten; verticale blauwe verfstreep (niet door afbeelding); handtekening van dir. C.van den Berg, prijs 95 €.
Etablissements Brondeel
Dodge; lettre de 1931, Anvers, Belgique; Prix: € 15.
Glucollin
Nijverheids koudlijmen, Antwerpen,
---------- ca. 1947; brief aan cliëntèle met aangeprijsde lijmproducten; zeer fraaie illustratie in zw/w/rood van een advocaat in functie; conditie 2 x licht gevouwen, geen gebreken; prijs € 50.
---------- 1947, brief aan cliëntèle met aangeprijsde lijmproducten; zeer fraaie illustratie in groen / bruin / wit van een reiziger die de bus mist; conditie: 1 lichte vouw, geen gebreken; prijs € 50.
---------- 1946; brief aan cliëntèle met aangeprijsde lijmproducten; illustratie van man die waarschuwend zijn vinger opsteekt, conditie: 2 lichte vouwen, geen gebreken; prijs € 15.
Jonggehuwd / Jeunes Marie's
Antwerpen / Anvers 1931; Uitgave Polderman & van Gool / Edition Polderman & van Gool, with orange picture of the marriage boat, 2 archive holes, price 25 Euro.
Pam Vermeulen
Autocarreisonderneming; Antwerpen, ca. 1950; brief met autobusreis-aanbiedingen; zeer fraai briefhoofd met 4 grote bussen in de bergen, in paars-groen; voor- en achterkant bedrukt met tekst en afbeeldingen; druk: De Rooster, Borgerhout-Antwerpen; conditie EF: slechts 2 lichte vouwen, geen gebreken; prijs € 50.
---
---
Assenede
Zuivelfabriek St. Martinus P.V.B.A.
Assenede, Belgie, rekening uit 1951; 10 bij 6 cm gestileerde afbeelding van de fabriek in bruin; 2 archiefgaten en nietjes-spoor, randen vergeeld; 2 bel. zegels; 25 Euro.

Battel-Mechelen
Frans Lambert
A alle soorten Lakkleuren
Battel-Mechelen, nota, 1936, paarse druk, prijs € 10

Bois d'Haine
NV Cacao en Chocolade KWATTA;
Bois d'Haine, 1952: rekening; bruine tekst op geel papier; 3 bel. zegels, div aantekeningen met blauw potlood; 10 Euro.

Bruges / Brugge
Marcel Acke-Wens
Kruidenierswaren - Epiceries en gros
Brugge, Maagdenstraat 11, Belgium: rekening 1952; 2 afbeeldingen in rood/zwart/wit:
1 van 3 bij 4 cm: een zwaan met tekst: "De Brugse Zwaan"
1 van 3 bij 3,5 cm, van een roos, met tekst: Koffie / Cafe Moreeuw
Brandvlekken (niet door afbeelding) en 1 nietjes-spoor; 9 Euro
---
---
Bruxelles / Brussel
---------------------------------------------------------------------------------------------------------------
L'Acide Carbonique Pur, S.A.
pour la Fabrication de l'Acide Carbonique liquide garanti Pur à l'Analyse.
---------- Bruxelles, 1926, nota met belastingzegel en 3 x 7,5 cm gravure van een dame met een grote fles vloeibare CO2; prijs / prix: € 25.
---------- Bruxelles, 1928, nota zonder afbeelding, 2 belastingzegels, prijs € 5.

Belgian Benzine Company
4 by 4 cm round yellow logo with crown and red characters SHELL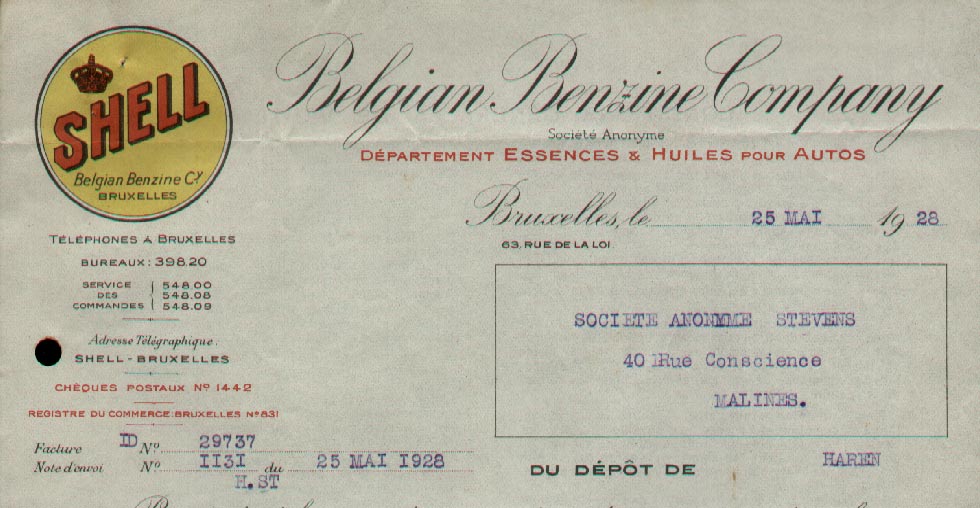 in red text: Département Essences & Huiles pour Autos
---------- Bruxelles, 1929, 2 Octobre, du dépôt de Haren, conditie: slecht; gehele bovenrand is vuil tot aan de rode tekst en heeft een 1 cm. scheur, 3 archiefgaten en div. vouwen, prijs 8 Euro.
(NB, dit betreft niet de boven afgebeelde nota !)

Onderstande nota heeft niet het gele Shell-logo !
Note de Crédit, Bruxelles, 2-10-1928, horende bij bovengenoemde nota van 2 octobre 1929, conditie: niet mooi, 1,5 cm. scheur in bovenrand en div. vlekken en kreukels, prijs € 5.
---
---
Brasserie Wielemans Ceuppens
Bruxelles; lettre de 1920 à monsieur Franz Smits, brasseur à Breda; 21 by 27 cm, with 15 by 6 cm. engraving of the brewery in Brussels; EF: extremely good conditions, twice folded very lightly, price 50 Euro.
---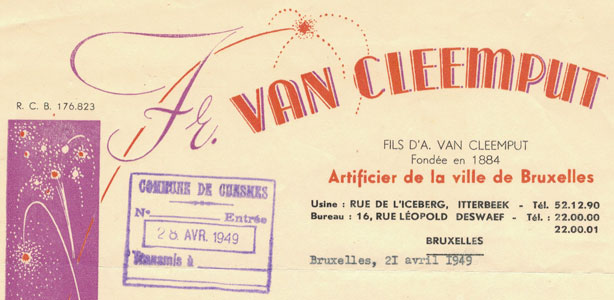 Fe. van Cleemput
Fils d'A van Cleemput
Artificier de la ville de Bruxelles, Fondée en 1884
Usine à Iterbeek / Bureau à Deswaef
Bruxelles, 21 avril 1949, lettre au burgmestre, brief aan de burgemeester, met fraaie afbeelding van afgestoken vuurwerk. Op de scan is rechts wat tekst weggevallen, conditie VF: div. kleine randgebreken en nette vouwen, afm. 21,7 x 30,2 cm., prijs, € 20
---

Les Frères Van Cleemput
Artificiers de Père en Fils depuis 1884
Bruxelles, 14 avril 1958
Brief aan de burgemeester met offerte voor een groot vuurwerk, kostende 7.000 Francs, beschreven op 2 A4-bladzijden, bestaande uit 13 vuurwerkonderdeln, die worden beschreven. De brief, en de offertebladzijden een en twee zijn aan elkaar geniet. De onderste rand van de brief is omgevouwen om in een hoes te passen en toont div. randgebreken (niet zichtbaar op de scan), ook kleine randgebreken in bovenrand; Prijs voor het geheel: € 25.

---
A. van Cleemput et Fils
Dilbeek (Bruxelles)
Artificiers de Père en Fils depuis 1884; Folder-blad uit ca. 1960, uitgevouwen is het één groot vel van 3 x A4-formaat:
Zie foto's (in staal-druk) van het voorblad, 1e, 2e en 3e blad. Prachtig om als 1 geheel in te ramen. Prijs € 50.
---
---
Dubonnet, Vin de liqueur au Quinquina
S.A. Belge, 542 Chaussee de Waterloo, Bruxelles, 1943
4 by 7 cm picture in red, yellow and black of a bottle of Dubonnet, a cat and a label of Morlant de la Marne, Champagne extra quality, reims, see picture, 2 tax stamps, 2 archive holes, 95 Euro.
Georges Socquet, Cravates: Fabrication exclusive en Spécialité
31-33 Rue Donnay, Bruxelles, Belgium; lettre, 1932, 5 by 4 cm. company logo in black / red, showing a man in historic cloths ( i. e. red tails), wearing a cravatte; red "wet stamp with text: "Expos. Intern. dÁnvers 1930, Grand Prix, la plus haute distinction", 2 archive holes, price: 23 Euro.

J. Dickler, Fabrique de clotures Métalliques en tous genres; spécialité de clotures de court de tennis
Bruxelles, Belgique (Belgium), 1934; invoice; text and picture in brown; 8 by 3,5 cm picture of a circumfenced tennis court with tennis players; VF-: 1 cm tear in upper border ; other border defects and wrinkles, price 75 Euro.

La Gazette Religieuse, organe hebdomadaire d'information catholiques
lettre, 1924 28 by 22 cm.; 7 by 3 cm. logo in red of the periodical's name with a cross; 2 archive holes, left border folded and torn in some places; 50 Euro.
Liqueurs de Pères Chartreux
Fabriqués à Tarragone
J. Vander Veeken, Vins fins et Liqueurs, Bruxelles, addition (multicolore) de 13-6-1910. trois plis, en très bonne état, Prix € 95.
Maison Victor de la Royère, Fabrique de Vernis et Teintures pour Bois
Spécialité de vernis à lálcool pour toutes industries, invoices 1930-1936; small pictures of 2 medals and a coat of arms with flags, 2 archive holes, 2 tax stamps; price 10 Euro.
---
Marcel Colin
35, rue Jolly, Bruxelles / Brussel
Machines à Coudre en gros-accessoires


Nota's met in kleurendruk een afbeelding van de Amerikaanse President Woodrow Wilson, met adelaar en Amerikaanse vlag.

Dat is hun gedeponeerd handelsmerk voor alle landen.

Wilson (1856-1924) was president van 1913-1921. hij ontving voor zijn inzet voor de wereldvrede in 1919 de Nobelprijs voor de Vrede.

----------------------------------------->>> klik op de foto voor een vergroting



Nota van Sept. 1930, afm. ca. 21 x 25,5 cm., prijs € 20

Nota van Nov. 1930, afm. ca. 21,5 x 27,5 cm., klein scheurtje rechts op de middenvouw, prijs € 15
Nota uit 1931, kleine randgebreken, links boven bruine verkleuring, prijs € 15

Nota uit 1934, afm. ca. 22 x 28 cm., rechter bovenhoek iets bruin en gekreukeld, prijs € 25

---
Office du The / Het Theebureau
Bruxelles / Brussel, 1940; letter to the Amsterdamsche Bank, ca, 20 bij 26 cm.; 2 archive holes, green border and vignette of tea plant and text in intaglio printing (in reliëf), price 45 Euro.

Parfumerie Générale "Azuria"
Bruxelles, 1951; invoice, 21,5 by 27,5 cm; 3 by 5 cm vignette of a woman holding a basket with flowers, in front of a parachute and globe (in red, blue and grey), tax stamp; price 23 Euro.

La Royale Belge
S.A. d'Assurances sur la vie et contre les accidents, Bruxelles;
kwitantie uit 1940 (ca. 30 bij 12 cm) voor Edouard Wauters de Locht, Boulev. St. Alban 61.; ca. 9 bij 9 cm afbeelding van bijen rond een bijenkorf en 2 ankers in licht beige, prijs 35 Euro.

W.H. Smith & Son
English Booksellers. newsagents, picture dealers, advertising agents, stationers, 78 Rue du Marché-aux-Herbes, Bruxelles, 1931; subscription notice, 1931, to "Furnishing Trade Organiser", 21,5 by 28 cm; 4 by 5 picture of the English Bookshop in Brussels; 4 by 5 cm map of the location, indicating the address, the Grand Place, le Maison de Ducs de Brabant etc.; price 50 Euro.
News: April 20th 2004 the British investment company Permira has approached W.H. Smith with a take-over bid of 940 million Pounds, a premium of 44% on the last established stock market price (source: Financiëel Dagblad, April 20th 2004)

La Vigilante
Société Coopérative d'Assurances contre le Bris des Glaces, Bruxelles; polis (ca. 28 bij 11 cm.) uit 1934, t.n.v. Monsieur Wouters fils, 61 rue St. Alban, Bruxelles, afgegeven door Raymond Penninckx, Assureur à St. Gilles; on the back: 2 black round tax stamps; 3 bij 3,5 cm. picture of a rooster (haan) and Latin Text: "Vigilio Semper"; price 45 Euro.
-----------------------------------------------------------------------------------------------------------------------------------


Charleroi
Maison Richard Boudin
Fournitures Générales de Bureaux
Charleroi 1937, lettre des affaires / business letter in red/black/grey; with 2 illustrations of typewriters; they imported Rebuilt Underwood - Remmington and Royal Regal; folded 3 times; very clean condition; price 25 €.

Maison Francois Verstegen
68 Rue du Grand Central, Charleroi, Belgium
Entreprise Générale de Peinture, Garniture et Ameublement, Linoleum et Lincrusta
Magnificent 19 by 5,5 cm letter head in red, brown, blue, with 3 vignettes of women wit chair, painters pallet and textile, signed by H. Schikasil. See letter head.
----------- invoice from 1931, Vf +, but some paperclip traces, 95 Euro
----------- invoice from 1928, F, but letter head virtually unaffected (except a few staple traces), small hole in upper border, large hole in left lower border and a hole in the header text, 25 Euro.

Maison Francois Verstegen
68 Rue du Grand Central, Charleroy, Belgium
Peintures, Décors, Garnitures, Linoléum, Lincrusta, Papiers peints, Tapis
Company letter from 1931 with 9 by 5 cm blue picture of an elegant woman standing before a painter's easel, see picture, VF: 2 staple holes and rust trace in vignette, 50 Euro.

Maison Francois Verstegen
68 Rue du Grand Central, Charleroy, Belgium
Peintures, Décors, Garnitures, papiers-Peints, Couleurs, Vernis, Linoleums, Lincrustas, Fournitures pour Peintres et Décorateurs et Artistes-Peintres
small invoice from 1931, without vignette, but with 5 tax stamps, paperclip rust in upper border, 5 Euro.
---------------------------------------------------------------------------------------------------------------------------------------------
Courtrai: voir / zie Kortrijk

Gent / Gand


Stoombrouwerij 't Vosken te Gent
---------- Nota uit 1897; afm. 14 bij 21 cm, met gravure van een vos (3 bij 2 cm); normale druk, prijs 35 €
English: Invoice from 1897; 14 bij 21 cm; engraving of a fox (3 by 2 cm.); normal print, price 35 €
---
Gosselies
Emile Laterre-Delbruyère S.A.
Vins en gros; Gosselles (B), 1933; addition / rekening / invoice for M. Haltermans, Hotel de Léspérance, Charleroi; print in green and black; 6 bij 12 cm Art-Deco picture of wine glass and 2 bunches of grapes; 2 archive holes, few light brown stains; price 45 Euro.
---
Jette-St-Pierre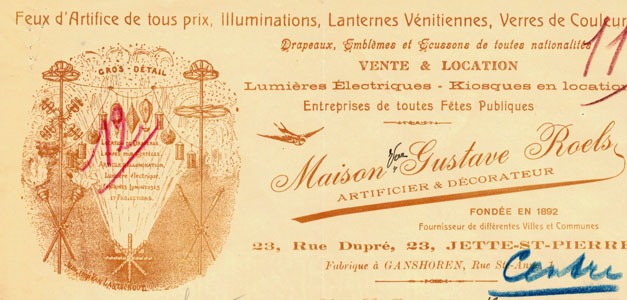 Maison Gustave Roels
Artificier & Décorateur
Jette-St-Pierre, 1927, rekening met Kennisgeving van belasting (kanomhoog getild om de rekening goed te lezen); conditie: heel lichte oranje druk, forse hoekbeschadiging links onder; voorts div. kleine (rand-)beschadigingen e.a.; Prijs € 10.
---
Kortrijk
Anc. ÉTs v.h. Aug. Boulez S.A.
Kortrijk / Courtrai, Belgium
fabriek van loodwit, kleuren, vernissen, lakken en van alle schilderproducten.....; rekening uit 1948; 5 by 4 cm vignette of paint machine filling cans, in red, blue and yellow, see picture, archive holes torn, 5 tax stamps in blue and red, 2 rust marks not visible on the front (as shown on picture scan), but only on the back, 50 Euro.
---
---
Liége / Luik
Albert Spirlet, Fabrique d'Armes en tous genres
Liège, Belgium, 1911; Spécialité de revolvers & Carabines, 5 by 3 cm picture of an opened revolver, 2 archive holes, price 95 Euro.

Etablissemets H.Douha-Dor, S.A.
Fabrique de bourrages, garnitures auto-lubrifiantes, joints metallo-plastiques et metal massif et produits d'amiante pour tous usages; Seule fabrique belge de garnitures de freins et d'embrayages;
Liege, 1945, Invoice, 6 by 8 cm picture of chimneys and of a nailed car, in red, yellow and black; 8 tax stamps; VF: 2 cm tear in upper border; some defects in left border; 5 archive holes in left border; 35 Euro
---
Vetements Engelbert
Liège / Luik
Manufactures Liégeoise de Caoutcouc souple durci et gutta percha.



Rondschrijven uit ca. 1955 met fraaie afbeelding van 3 personen en een hondje.

Paperclipsporen boven de afbeelding en minieme randgebreken.

Prijs € 25
---
Lodelinsart

Verreries de la Roue S.A.
Lodelinsart, België,
---------- 1900, rekening op A4 formaat met kleine afbeelding van het trade mark, een wiel. in redelijke conditie met als enige beschadiging een scherpe scheur in de onderrand, Prijs € 15.
Londerzeel
General Wiper Company H. de Bondt & F. Leysen,
Londerzeel, België, letter from1941, beautiful 20 by 6 cm. green art-deco illustration of factory and ships, 2 archive holes, price 50 Euro.
Malines
Atelier Moderne de Réparations Autos et Camions FIAT, Gustave Van Hamme,
Malines, Belgique / Belgium; Addition de 1929; Prix: € 15.

Belgian Shell Company S.A.
Bureau Auxiliaire Malines; 2 archive holes
3 by 2 cm company logo with yellow shell and red characters SHELL, (scanned example is from a different location)
--------- letters from 1931/1932; texts in French, price 10 Euro
--------- onvoices from 1934/1935/1938, texts in French; price 10 Euro.
logo as above, but only in blue colour:
--------- invoices from 1936, 5 Euro.
Grand Garage du Centre
Agence des automobiles Packard, Hudson et Essex; Malines, Belgique (Belgium);
Addition de 1930; Prix: € 12.
Mons
Georges Vanpyperzeele,
Mons, Belgium
Denrées Coloniales en Gros (groothandel in koloniale waarden)
Confiseries & Distillerie "La Nervienne" (suikerwaren en destilleerderij)
Dépositaire pour la Belgique des Marques Astrid Apératif, Astrid Oporto, Genièvre Ancien Belge
Consessionnaire de Eaux Minérales Spa Monopole & Cidre Clairette
Nota 1948; Beautiful multicolour decoratative invoice with grapes and grape leaves and 2 pictures (2 by 6 cm) of a bottle of Astrid Apératif and of Genièvre Ancien Belge, EF, unfolded, 95 Euro.
The bottle of Genièvre Ancien Belge shows a picture of "Le Nervien", a picture also given in pink and size 4 by 4 cm in the letter head; This picture is a mixture of a fierce ancient Nervian male with big moustache and the classical god Hermes (L: Mercurius; Engl: Mercury) typically depicted with his winged helmet.
The Nervians (NL: Nerviërs) were a German population in Gallia Belgica (now Belgium), in 57 A.D. conquored by the Roman general Julius Caesar (ENSIE, 1951, p. 916).
Onkerzelle
Albert Fostier-Van de Parre (Etablissements)
La Protection contre les Gaz, Vapeurs, Fumees, Poussieres, Acides, le Feu et la Chaleur
Onkerzelle, Belgium
English: Protection against gas, vapour, smoke, dust, acids, fireand heat.
Invoice from 1954; 5 by 6 cm picture of a man wearing a gas mask, 5 archive holes in left border, 50 Euro.
Opwijk
Melkerij Meert, Melk- en Zuivelproducten NOSTA N.V.
Opwijk, Belgie, rekeining 1956 / 57; 11 bij 3 cm afb. der fabriek; div. bel. zegels; links 2 of 4 archiefgaten; div. aantekeningen met blauw potlood; verder heel mooi; 12 Euro.
Sint-Niklaas
Louis de Cock
Boschontginning - Houthandel - Mekanieke Zagerij - Triplex - import / export
Exploitation Forestières - Bois du Nord - Scierie mecanique - importation / exportation
Sint-Niklaas, België, 1966, nota met 19 x 4 cm. afbeelding van houthakkers aan het werk, prijs 95 €.

Vilvoorde
J. B. van Lierde-van Calster
Fabrique de Pinceaux en tous Genres, Vilvoorde, Belgium, 1938; pictures of 2 brushes in green; letter with regard to bankruptcy of the company, signed by mr. van Lierde
---------- with paperclip rust in upperborder (as depicted), 17 Euro
---------- without paperclip rust, 25 Euro
---
you are here: home - historic invoices - Belgium
Email hier uw vragen of bestellingen
en Facebook of Linkedin
---