HUGO VAN DER MOLEN'S
Scripophily site
a collection of historic bonds and shares

---

Henri Brauer (1858-1936)

(update: December 8th 2012)

Dr. Hugo H. van der Molen - Wederikweg 114 - 9753 AE Haren, The Netherlands
Tel: +31 (0)50 534 8795; email: [email protected]

< --- click for enlargements --->
---
See page on explanations, sales conditions, costs of shipping and on how to order and to pay.
Paypal, VISA, Euro-Mastercard & American Express cards are accepted

You are here: home - scripophily - art - Henri Brauer
---
Henri Brauer (1858-1936), born a German became a naturalised Frenchman.
He has engraved many stock certificates (see below).
Brauer was widely known to have illustrated several volumes of advertising Album Mariani "Contemporary Figures", issued by the wine specialty house Mariani:
English: In 1863, a Corsican pharmacist and chemist Angelo Mariani, creates and markets in Paris a fortifying drink based on wine from Bordeaux to which Coca leaves were added, called Vin Mariani. From 1868, the wine Mariani becomes a real success. It is considered a drug and recommended by doctors. Angelo Mariani had a good business sense. He had the good idea to have Mariani wine advertised by personalities of his time. An album of 14 volumes has been published containing celebrities flattering remarks about the wine Mariani and its derivatives (elixir, infusion, paste tonic and chest, ...). Here the text of Francis Tattegrain.

Francais: En 1863, un pharmacien et chimiste corse , Angelo Mariani, crée et commercialise à Paris une boisson fortifiante à base de vin de Bordeaux additionné de feuilles de Coca, appelée Vin Mariani. A partir de 1868, le vin Mariani connaît un véritable succès. Il est assimilé à un médicament et recommandé par les médecins. Angelo Mariani possédait un bon sens commercial. Il eut la bonne idée de faire faire la publicité du vin Mariani par des personnalités de son époque. Un album de 14 volumes a ainsi été édité contenant les propos flatteurs des célébrités sur le vin Mariani et ses dérivés (élixir, infusion, pâte tonique et pectorale, ...). Ici le texte de Francis Tattegrain.

source: JOCONDE, Dec. 6th 2012

Click for enlargement----->

Many of Brauer's engravings in the advertising Album Mariani "

Contemporary Figures

" are now for sale at some € 10 on

priceminister.com
---
---
In his extensive index-list and accompanying illustrated catalogue, "HWP-Künstler", of stocks illustrated by artists, Jürgen Weritz ([email protected]) lists the following stocks illustrated by Henri Brauer:
Banque d'Athènes ,
Canal Maritime de Suez
Comp. Française d'Exploitation des Mines d'Or et d'Argent de la Gardette
Compagnie Nouvelle du Canal de Panama
Le Sans Fumée
S. A. des Aciéries et Forges de Firminy
S. A. Ottomane des Mines de Balia-Karaidin , Constantinople, 1926
Société des Voies Ferrées du Dauphine (source: Boone shares, see below)
---
Société Voies Ferrées du Dauphiné
69 RHONE /38 ISERE. GRENOBLE / PARIS, 20 January 1894, Part de Fondateur. brown-red, buff. #2000. No 647. Superb decorative piece with many vignettes of towns, castles etc. on its routes, trains, ladies, arms of Dauphiné, etc. Designer Lucien Metivet, engraved by Henri Brauer. This company operated tramways in various towns in the Grenoble region. It was liquidated in 1927, although a similar enterprise is still operating light railways in the area.

source: lot no 496, Boone Shares, auction / veiling no. 49
---
I found the following other stocks engraved by Henri Brauer:
---
---
Currently I have the following stocks for sale: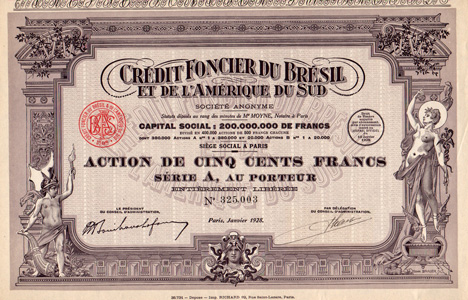 Crédit Foncier du Brésil et de l'Amérique du Sud:
Paris, 1928, action de 500 Fr; 33 by 21 cm; print: Richard, Paris; engraving: Henri Brauer; depicted are the almost nude god(des) Hermes (L.: Mercurius; Engl.: Mercury), a cherub with horn of affluence and Medusa, her hair full of snakes; very decorative and a beauty to frame !; price 25 Euro.
---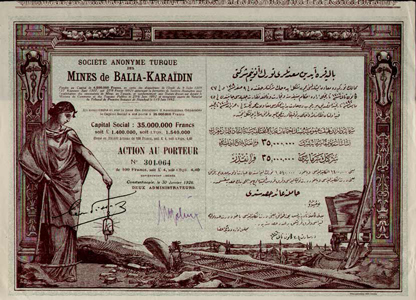 Société Anonyme Turque de Mines de Balia-Karaidin,
Large illustration by Henri Brauer of a woman with an oil lamp, railroad, equipment and a view on Constantinople.
Action de 100 Fr, Constantinople 1926, brun sur vert, text in Roman and Arabic, price 50 Euro
---
Banque d'Athènes (Trapeza Athenon)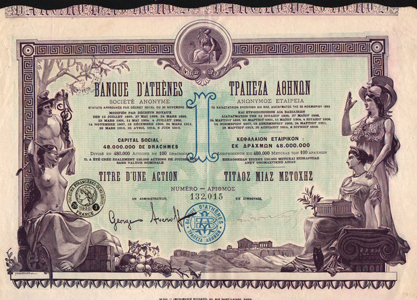 Established in 1893; latest change of statutes: 6-6-1919. Titre d'une action de 100 Drachmes (certificate of one share of 100 Drachmes), brown on light green field on beige; beautifully decorated piece, size 23 by 30 cm, with illustrations of god Hermes (Eng: Mercury) and 3 goddesses. Standing is Athena, the goddess of the city of Athens, dressed in armour and wearing a helmet. At her feet a woman with on her lap a scale model of the world famous Parthenon, the temple on the Acropolis complex, dedicated to Athena. The Acropolis is also depicted. At the left a semi nude goddess holds a blindfold. In the top border is a small vignette of Athena in armour, holding a spear. Athena's owl, symbol of wisdom, is also depicted. Also depicted is an olive branch, symbol for the olive tree, Athena's gift to the city, that named itself after her in gratitude for that. Design by Henri Brauer; printed at Imprimerie Richard, Paris. A beauty to frame !
----- no. 22,017, condition VF, Greek blue paper tax stamp + red wet stamp over it.; issued in year ?; in right upper corner some figures were noted in red and blue pencil; 2 coupons left attached; price: € 95.
----- no. 132.015, condition VF, black French wet tax stamp from 1930, coupons 67-77 left attached; price € 150.
---
---
You are here: home - scripophily - art - Henri Brauer