HUGO VAN DER MOLEN'S
Scripophily site
a collection of historic bonds and shares
---
Yugoslavia
(update: August 17th 2011)

Dr. Hugo H. van der Molen - Wederikweg 114 - 9753 AE Haren, The Netherlands
Tel: +31 (0)50 534 8795; Fax: +31 (0)50 534 0852; email: [email protected]
---
See page on explanations, sales conditions, costs of shipping and on how to order and to pay.
Paypal, VISA, Euro-Mastercard & American Express accepted
postage and packing: Netherlands 5-7 Euro; Abroad: 7 Euro
You are here: home - scripophily - search by country - Yugoslavia

Catalogue:
Serbian Numismatic Society, Catalogue of Shares, Belagrade, 2001, hard cover, 314 pages, with 1327 items listed, with hundreds of illustrations, very many of which in full colour, all on glossy paper, 20 by 30 cm. Short English titles of the issuing company, but apart from that all in Serbian language (unfortunately !); 50 Euro + shipping (I believe 7,50 Euro in Europe) is a small price for the beauty that is unveiled !!!!!!
One can order through Snezana Marusic: email: [email protected] and tel: ++381 63 316-765

---
---
Some history
1868: Serbia becomes independant from the Turks
1918: establishment of the Kingdom of Serves, Kroates and Slovenians
1929: establishment of the Kingdom of Yugoslavia

I would be obliged to receive additional data and information !
---
---
Some translations:
ucastina = share (in Tsjech)
dionica = share (in Serbian)
emisia = emission

---
---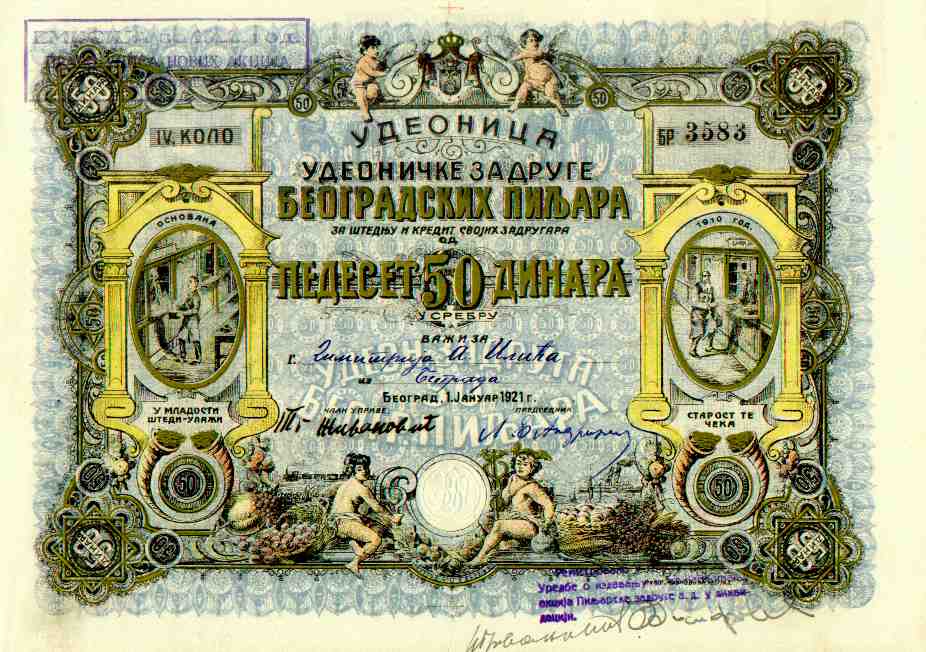 Belgrade Joint Stock Cooperative Market Vendors
Beautifully decorated stock in Balkan style and with gold print, see picture
Similar to catalogue no. 1073:
---------- Belgrade, 1921, certificate of 50 dinars in Silver, EF, unfolded, 95 Euro.
---------- Belgrade, 1929, certificate of 250 dinars in Silver, EF, unfolded, 75 Euro
Bosnische Industrie- und Handelsbank AG
Banque d'Industrie et de Commerce de Bosnie SA
Aktie 200 Kronen; Sarajewo 1922; catalogue no. 671; 25 by 39 cm.; EF, unfolded, brown border; 25 Euro.
Deonica, Kreditne Banke Beograd (Belgrade Credit bank)
Belgrade, 1990; share certificate with complete coupons attached, red, with 11 by 6 cm picture of the bank building, EF, unfolded, 25 Euro.

Homoljska Privredna Banka (Homolje Investment Bank)
Homole is a region in Serbia; the share certificates are beautifully decorated, also in gold print.
------ catalogue no. 341: 10 shares of 100 dinars in silver; catalogue indicative price: 75-100 Euro; our price: 75 Euro.
------ catalogue no. 340: 100 dinars in silver, catalogue indicative price: 75-100 Euro; our price: 75 Euro.

Leskovacka Stedionica (English: Leskovac Savings Bank)
share of 1000 ..., in a capital of 2 million, 30 by 19 cm, 1929, catalog no. 475; with pictures of god of the trade Hermes (=Mercury) and goddess of agriculture and fertility Demeter (+ Ceres), EF: unfolded, coupons attached, price 75 Euro.
PUCKE TRGOVINSKE BANKE "DIONICKO DRUSTO U. SPLITU (Peoples Trading Bank), Split, 1922, 1 share (= 1 Dionica), 400 Kr., large size (38 by 30 cm), brown on yellow with red and dark brown characters. 2 beautiful drawings by Tommaseo, of a woman and a man, see picture, 4 wet stamps, also over part of the drawing. VF, unfolded, but a few wrinkles at outer edge of upper border, 625 Euro.
Srpsko Amerikanske Banke (Serbian)
Serbian-American Bank (English)
Servisch-Amerikaanse Bank (NL)
Beograd (Engl. Belgrade), 1922; certificate of 10 shares of 1000 Dinars; beautiful certificate (drawn by the architect Milutinovic) with blue ornate border, coats of arms, flags, and 2 vignettes of a) the Statue of Liberty in the Hudson Bay (New York) and b) a church at the border of the river Danube in Belgrade. Serbian, price 30 Euro.
Serbian Red Cross Society / Societe Serbe de la Croix Rouge / Serbischer Verein vom Roten Kreuze
Lottery Bond / Obligation a Lots / Praemien Schuldverschreibung
Belgrade, 1907; 38 by 25 cm., see picture, 30 Euro
Soko-Banjska Banka (English: Soko Banja Bank)
catalogue no. 710; 23 by 17 cm share certificate of 50 Dinars in silver (numbered between 747 and 964), Soko Banja, 1914; green with beautiful golden border lines and texts; 6 by 11 cm picture of 2 goddesses, one of them Demetre (L: Ceres), goddess of agriculture , holding a plough, a grain sheaf and a sickle, sitting under a small bee hive; a beauty to frame. price 45 Euro.
Stara Pazova Bank - Staropazoska Banka
Stara Pazova, 1920, Serbia / Servië; share of 120 Krowns (Austria-Hungarian) = 40 Dinar, 3rd emission, print: Unie Praha; size: 36 by 24 cm.; 3 pictures in very decorative (Balkan Style) border: a town, a grain field and symbols of economy; yellow, Serbian catalogue no. 736, EF: unfolded, price 25 Euro.
---
See page on explanations, sales conditions, costs of shipping and on how to order and to pay.
You are here: home - scripophily - search by country - Yugoslavia