HUGO VAN DER MOLEN'S
Scripophily site
a collection of historic bonds and shares
---
Chocola / Cacao / Chocolate / Cocoa
(update 12-11-2019)

Dr. Hugo H. van der Molen - Wederikweg 114 - 9753 AE Haren, The Netherlands
Tel: +31 (0)50 534 8795; email: [email protected]

en Facebook of Linkedin
---
See page on explanations, sales conditions, costs of shipping and on how to order and to pay.
You are here: home - scripophily - search by activity - chocolate
---
The Netherlands
Cacao- en Chocoladefabriek voorheen J Pette Hz, te Wormerveer
---------- 6% obligatie groot f 1000, Wormerveer 1914, oplage 300st; afm. ca. 19,5 x 31 cm.: fraaie sierrand in zwart en rood: Meijer's Boek- en Handelsdrukkerij; met los couponblad no's 47-60; conditie VF: 1 heel lichte verticale vouw, op voor- en achterkant stempels van voormalug eigenaar Spaans, L-onderkant is niet donker zoals op de foto; prijs € 50.
---------- 6% obligatie groot f 1000, Wormerveer 1925, oplage 200 st; afm. ca. 20 x 29 cm.; paarse druk: Zaanlandsche stoomdrukkerij v/h E.N. Smit, Koog aan de Zaan; aanh. couponblad met no's 24-41; conditie VF: 1 verticale en 2 hor. vouwen; L onderkant is niet donker zoals op de foto; met stempel op voor- en achterkant van voormalig eigenaar Spaans; prijs € 50.
Literatuur en links:
----- Cacao- en Chocoladefabriek v/h Pette Hzn. (N.V.), 1903-1937, VVOF Mededelingenblad maart 2007 (fout gedrukt als 2006), p. 5-7, met 1 afb., door Jaap-Jan Ursem.
----- Pette museum: http://www.pette.nl/index.html
----- Pette museum (in English): http://www.pette.nl/english.htm
---

---

Tjoklat-Fabriek N.V., Amsterdam 1954, aandeel van f 1000, t.n.v. W.C. Sickesz, bruine sierrand op geel patroon; VF: ongevouwen maar wel kreukels, prijs 35 Euro
De beroemde Tjoklat metalen doosjes, met afbeelding van Indonesisch dame (ook op de flikken), werden ontworpen door de beroemde Groningse kunstschilder en ontwerper Jannes de Vries (1901-1986).
---
---
Portugal
Socidade Industrial de Chocolates SA
Lisboa (Portugal), 1921; Titulo de cinco Accoes (certificate of 5 shares); size: 25 by 38 cm; blue / yellow; vignette (20 by 14 cm) of a beautiful semi nude woman throwing chocolate bars at a detailed globe with maps of Europe and Africa; see 119 Kb picture; large red stamp "Privilegada"and some pink stamps, "liquidada" and other ones; design: J. Valeriano Sevla, 1921; AT.ART: Julio Amorim-Lisboa; VF: only 1 (hardly visible) fold, very clean; 1 cm tear in left of Middle fold; a beauty to frame !; price 450 Euro.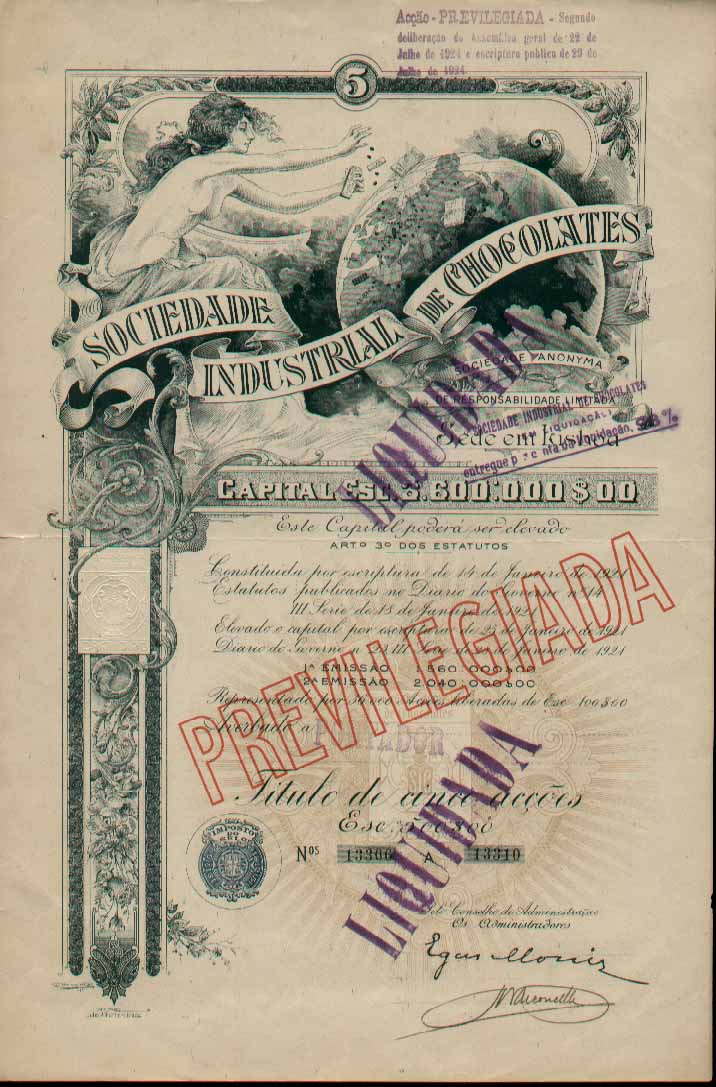 ---
---
Switserland

Chocoladefabriken Lindt & Sprüngli, A.G.,


Inhaber-Optionsschein, Kilchberg, Switserland, oktober 1987,

The famous Swiss chocolate factory commuscates on its chocolate bar wrappings that their planting of timber trees on its cocoa plantations helps both to reduce CO2-emissions and giving farmers more long term revenues.

condition: UNC = fresh from the printer, price = 10 Euro.
---
You are here: home - scripophily - search by activity - chocolate
---