HUGO VAN DER MOLEN'S
Scripophily site
Flowers & Bulbs / Bloemen en Bloembollen
(update: January 18th 2017)

Dr. Hugo H. van der Molen - Wederikweg 114 - 9753 AE Haren, The Netherlands
Tel: +31 (0)50 534 8795; email: hugo@hugovandermolen.nl
---
See page on explanations, sales conditions, costs of shipping and on how to order and to pay.
Paypal accepted
postage and packing: Netherlands 5-7 Euro; Abroad: 7 Euro

You are here: home - scripophily - search by activity - flowers & bulbs
---
Nederland / The Netherlands
Bloembollenkwekerij en Export-Maatschappij voorheen C.J. Speelman & Zonen en Lagarde & Speelman, N.V.
Gev. te Sassenheim (Z.H.), opgericht op 10-2-1926.

Bewijs van aandeel groot f 5.000, met voll. couponblad t.n.v. (blanco), Sassenheim z.j., maar waarschijnlijk 1926. Fraaie blauwe sierrand; afm. ca. 21 x 33 cm.;

zeer zeldzaam SPECIMEN (genummerd met zegel no. 6605) van de beroemde waardepapieren-drukkerij de Bussy te Amsterdam. Conditie EF+: 1 heel lichte vouw, bijna UNC;

prijs € 50.
General Bulb Company, N.V.
(Algemeene Maatschappij voor Bloembollen)

Reeds in 1885 opgericht in Vogelenzang (NH) door A.J.E. baron van Ittersum (1845-1922) als de Maatschappij voor Bloembollencultuur, die in het buitenland bekend stond als The General Bulb Company, werd het in 1902 een N.V.
Aandeel no. 351, groot f 500, Vogelenzang, 1903; volledig los couponblad, Druk: Holdert & Co., Amst.; afm. ca. 21 x 34 cm., conditie EF: ongevouwen, prijs € 95.


In English: Established in Vogelenzang already in1855 by Baron van Ittersum, it became a Ltd. company in 1902.
Share no. 351 of DGL 500, Vogelenzang (North Holland), 1903; condition EF: unfolded, price € 95.

The General Bulb Company was exporting bulbs in large numbers. The Toronto Daily Mail reported on November 17th 1884 that the company had made a grand display of 200.000 bulbs at the World's Exhibition in New Orleans.
---
R.A. van der Schoot's Bloembollenhandel en -Kweekerij, N.V.
Gev. te Hillegom (ZH); opgericht 28-11-1924; Bewijs van aandeel (f 1000) no 128 in de 6% obligatieleening van 1925, groot f 150.000 (dus hooguit 150 st uitgegeven) aan toonder; Hillegom, 18-12-1925; aanh. couponblad met nrs. 11-20, groene sierrand en oranje gedr. belastingzegel; afm. ca. 22 x 35 cm.; origineel ondertekend door 2 directeuren van der Schoot en commissaris G. Boozen; conditie EF: heel licht gevouwen; prijs € 95.
---
---
Belgium / België / Belgique
Tuinbouw Flora NV, in vereffening, established in 1922 in Antwerp, maatsch zetel in Mortsel, 1950, red border and texts, print: Van der A, Brussels, see pictture, EF, unfolded, 9 Euro
---
France
Etablissements Victor Hasslauer SA
Established in 1926; Imprimerie B. Garfunkel, 4 rue de la Bourse, Paris, Framce.
6 by 6 vignette of a whale, a reindeer and roses, indicating the activities of this company: supplying to the perfume industry musk from reindeer, kidneys from whales and rose oil.
Paris, 1926:
---------- Action de 500 Francs, (capital: 2000 actions de 500 Fr., # = 2000), blue, EF, unfolded, coupon sheet attached, 50 Euro.
---------- Part de fondateur, red, EF, unfolded, coupon sheet attached, 60 Euro.
---
---
Bulgaria
Bulgaria, 1948,
beautiful decorative share (30 by 42 cm), with in the border ears of corn, blue corn flowers and red corn poppies, and 2 birds; brown paper stamp, 1 cm tear both in fold of upper border and of left border; one tiny hole in the centre of the 2 folds., price 145 Euro.
Who can give me a translation or tell me the name of the company ?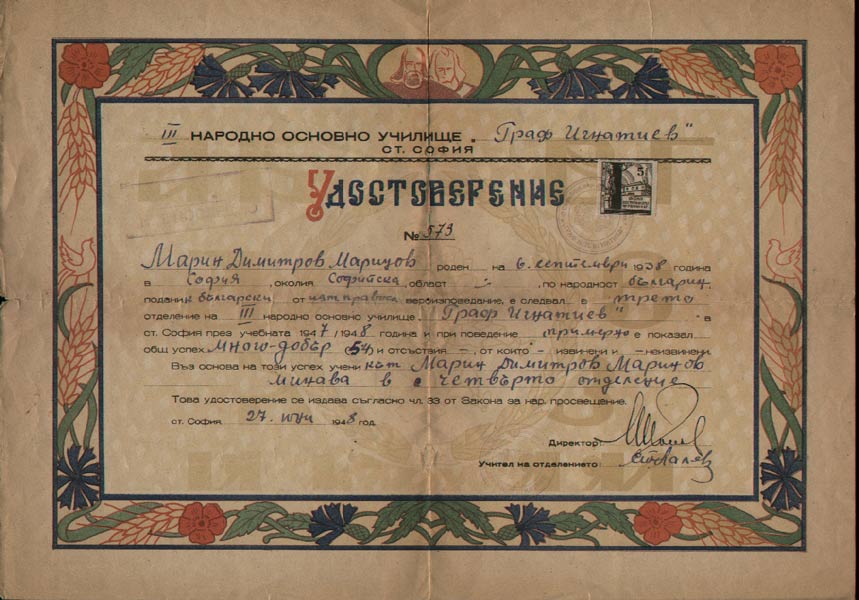 ---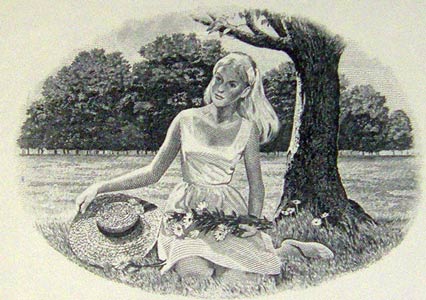 Shaklee Corp., California,
a health food company,
Vignette: fair blond girl, sitting in the grass under a tree with a bunch of flowers in one hand and a straw hat in the other, See picture : the same as the Jantzen Inc.engraving, but in a different setting, now under a tree.
---------- blue, certificate of 100 sh., 1977, price: 11 Euro.
---------- green 1975, certificate of < 100 sh., 23 Euro.
---
See page on explanations, sales conditions, costs of shipping and on how to order and to pay.

You are here: home - scripophily - search by activity - flowers & bulbs
---