---
HUGO VAN DER MOLEN'S
Scripophily site
a collection of historic bonds and shares
---
Paarden en daaraan gerelateerd / Horses and related
(update: 12 jlui 2020)
Dr. Hugo H. van der Molen - Wederikweg 114 - 9753 AE Haren, The Netherlands
Tel: +31 (0)50 534 8795; email: [email protected]
en Facebook of Linkedin
---
See page on explanations, sales conditions, costs of shipping and on how to order and to pay.
Paypal accepted

You are here: home - scripophily - horses and related
---
Nederland / The Netherlands
Bredasche Manège, N.V.
Gev. te Breda,


24-1-1911, Aandeel f 50 in kapitaal van f 5.000 (oplage dus slechts100);

afm. 18 x 26 cm, rode sierrand en afbeelding van paardehoofd en hoefijzer,

Druk: H. Engelbrecht, Breda.

prachtig om in te lijsten !

conditie VF+, ongevouwen, geen randgebreken, prijs € 250.
---
Harddraverij-Vereeniging
gev. te Groningen.

Bewijs van storting, no. 378, van 10 gulden, in het fonds van de Harddraverij-Vereeniging, goedgekeurd bij Kon. Besluit van 14-11-1887, t.n.v. R.J. Kahrel, Groningen, december 1897.

Ondertekend door de penningmeester, mede namens de president P.B.J. Reeling Brouwer en secretaris U. J. van Lessen.

Druk op dik karton-papier: Erven B. van der Kamp te Groningen, met rode Jugendstil randversiering met druivenblaadjes, 2 blauwe belastingstempels, afm. ca. 21 x 17,5 cm.; buitenranden vlekkerig bruin, ongevouwen. Prijs: niet te koop / not for sale.
---

(Vereeniging) "Eindhovense manege", obligatie no. 75, 1-11-1928, groot f 100 aan toonder in leening groot f 20.000, dus # = max. 200 st, origin. handt., eenvoudige zwarte sierrand, oranje bel. stempel, los couponblad, klein formaat: 21 bij 13 cm, see picture, Rechter rand heeft kreukels, voorts wat speldeprikken, 57 Euro
---
France
Compagnie Impériale des Chemins de Fer Éthiopiens
established in 1896; Action de 500 Francs, Paris, 1899; size: 32 by 42 cm.; 23 by 15 cm engraving by the famous military painter and illustrator Louis Charles Bombled (1862-1927) of the Ethiopian emperor Menelik II awaiting an oncoming train on his horse, accompanied by merchants with camels. Imprimerie Chaise, Paris; coupons on the back, condition EF: unfolded, price 135 Euro.
The Swiss engineer Alfred Ilg, minister under emperor Menelik II, convinced him to build this railway from the coast inland bound, ca. 78 km. over mountans 2.424 m. high. It was a small size track from Djibouti, along Harare, Antotto and Kaffa to the White Nile and Addis Abeba. The money was raised in France that had a strategic interest in the area after the Abessinian war with Italy. The track was completed in 1917, one year aftter the death of Alfred Ilg. (source: Benecke & Rehse, 2004).
---
SPAIN
Hidroelectrica Espanola SA, Madrid
share of 500 Ptas, Madrid 29-7-1965, price 75 Euro.
Beautiful large vignette (23 * 12 cm) in black and white of the God mercure (L.) / Hermes (Gr.) holding 7 horses on a chain before a waterfall with factory. At his feet a horn of affluence. May be the horses refer to "horsepower" ?. The border is yellow with a red printed seal.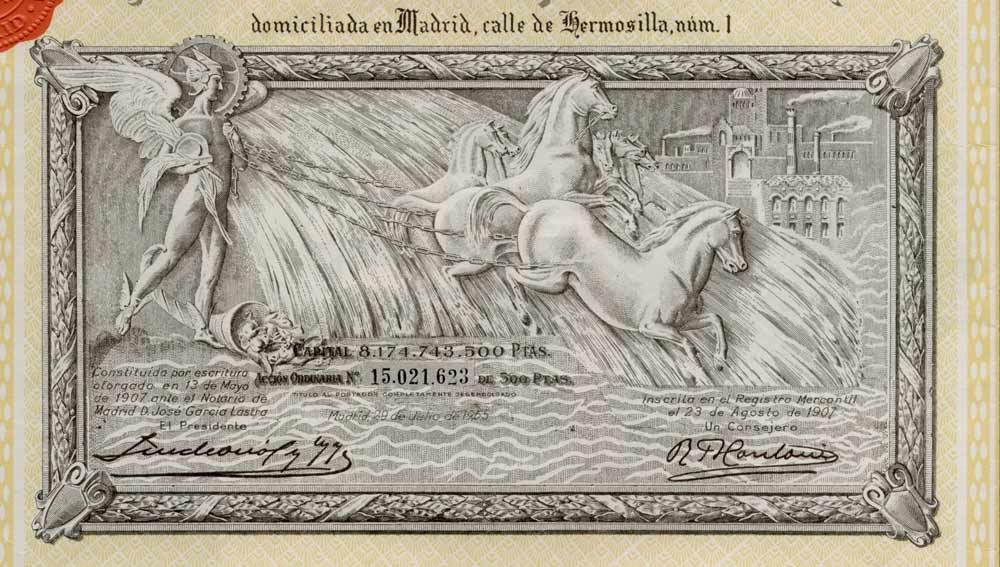 ---
USA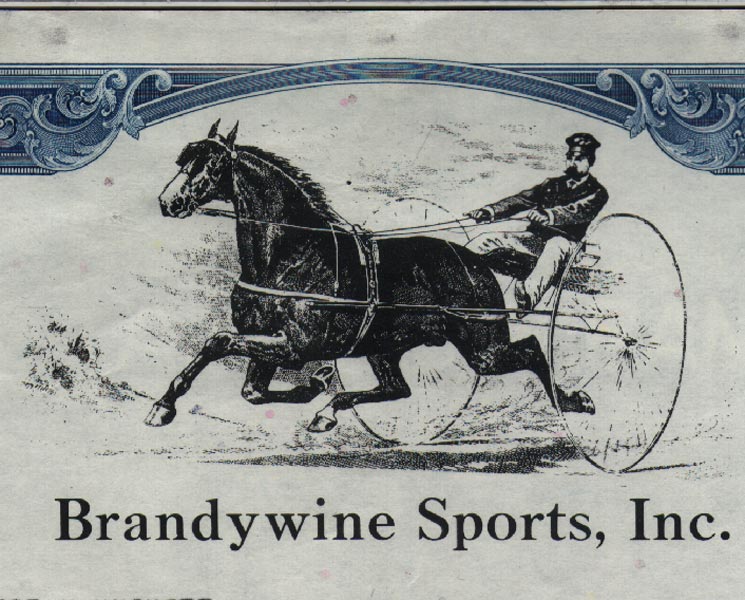 Brandywine Sports, Inc.
a harness track company from Delaware, USA; (renbaan voor sulkies); certificate for odd shares, blue border and 10 by 5 cm engraving of harness track horse and rider, 1981, in the name of George W. Wyckoff, from Pittsburg PA, condition VF+: unfolded, several tiny staple traces, price 75 Euro.
---
San Juan Racing Association, Inc
Incorporated under laws of the commonwealth of Puerto Rico, established in 1954; certificate of < 100 shares, 1972; transferable in New York and Jersey City, USA; 9 by 5 cm engravingof a seated man and a jockey on a racing horse; orange border; print: Security-Columbian Banknote Co.; price 50 Euro.
---
See page on explanations, sales conditions, costs of shipping and on how to order and to pay.
You are here: home - scripophily - horses and related
en Facebook of Linkedin