---
HUGO VAN DER MOLEN'S
Scripophily site
a collection of historic bonds and shares
---
Latest Acquisitions: Spain
(update: 4-10-2020)
Dr. Hugo H. van der Molen - Wederikweg 114 - 9753 AE Haren, The Netherlands
Tel: +31 (0)50 534 8795; email: [email protected]
---
See page on explanations, sales conditions, costs of shipping and on how to order and to pay.
Paypal accepted

You are here: home - scripophily - latest acquisitions - Spain
---
October 4th 2022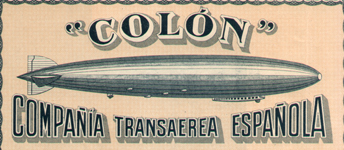 Companiá Transaerea Española "Colón"
Established in 1922; Bono de constucción al portador (founder share to bearer), Madrid, may 24th 1928; Lith.: Grijelmo S.A., Bilbao; ca. 23 x 33 cm + curved left security border + attached coupon sheet with 9 coupons, uncancelled; very nice large engraving of a ZEPPELIN; Colón = the Spanish name of Columbus, the captain who discovered America in 1492).
condition EF: no folds, price € 95.
condition VF +: one or 2 light folds: You will buy a different serial number, but of similar condition as dispalayed here: price € 50.
Read more about the history of ZEPPELINS and see some nice postcards of Zeppelins.
---
You are here: home - scripophily - latest acquisitions - Spain