HUGO VAN DER MOLEN'S
Scripophily site
a collection of historic bonds and shares
---
Mermaids / Zeemeerminnen
(update: September 23rd 2013)

Dr. Hugo H. van der Molen - Wederikweg 114 - 9753 AE Haren, The Netherlands
Tel: +31 (0)50 534 8795; email: [email protected]
---
See page on explanations, sales conditions, costs of shipping and on how to order and to pay.
VISA, Euro-Mastercard & American Express accepted
postage and packing: Netherlands 5-7 Euro; Abroad: 7 Euro
You are here: home - scripophily - search by illustration - mermaids
---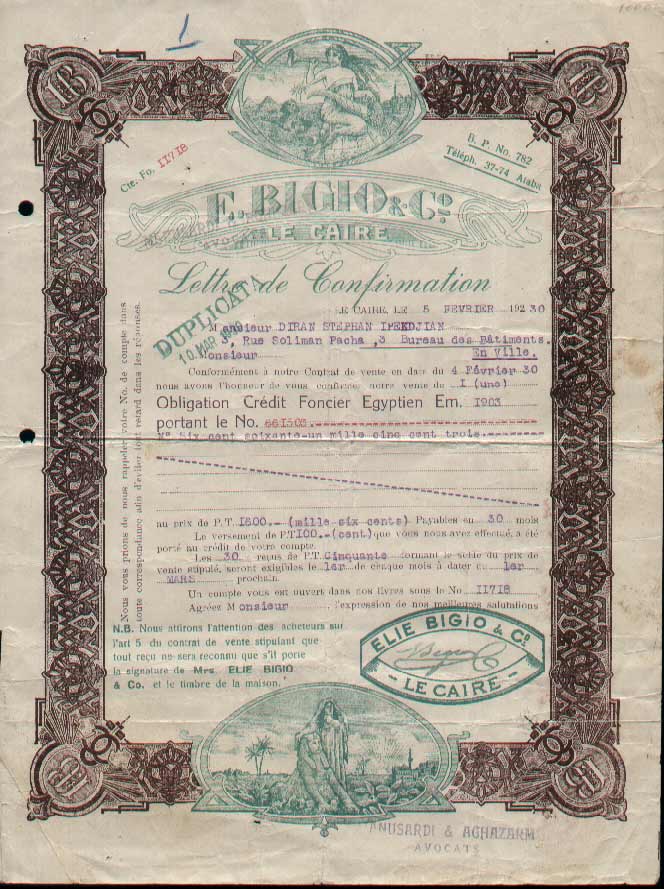 Egypt / Egypte
Crédit Foncier Egyptien
Lettre de Confirmation de vente d'une obligation (mésures: 24 par 31 cm.), Emission 1903, au prix de P.T. 1600; issue par F. Biglio & Co.; cadre brun, mais texte et 2 vignettes en vert; une vignette d'une Sirène et l'autre d'une Spinx; condition F (mauvais); trous d'archives, petits tires, bordres irregulières; prix 35 €.
---
Literatuur:
Faber, Paul en Sliggers, Bert (2013), Een zee vol meerminnen, Verleiding en bedreiging. (175 p. fraai geïllustreerde cultuurhistorie: warm aanbevolen !)
---
See page on explanations, sales conditions, costs of shipping and on how to order and to pay.
You are here: home - scripophily - search by illustration - mermaids
---