---

HUGO VAN DER MOLEN'S
website
met Bedrijfshistorie en -documentatie
with Dutch company history and documentation

een collectie gedenkboeken, prospecti, brochures, productcatalogi, reclamemateriaal etc.
a collection of memorial volumes, prospectuses, brochures, product catalogues, advertising material etc.

---

Zoeken op Bedrijfsactiviteit / Search by Company Activity
(update: 7-7-2014)


Dr. Hugo H. van der Molen - Wederikweg 114 - 9753 AE Haren, The Netherlands
Tel: +31 (0)50 534 8795; email: hugo@hugovandermolen.nl

---

vermelde prijzen zijn exclusief verzendkosten / prices do not include shipmenmt costs


---

---

---

Nederlands

English

Naast gebruik van de Google zoekmachine kunt U op 4 manieren zoeken:

Besides using the Google search machine you can search in for ways:

Verzamelaars van briefhoofden en bedrijfsrekeningen

:

klik hier

Collectors of letter heads and company invoices

:

click here

Verzamelaars van

historische aandelen en obligaties

: klik hier

Collectors of

historical bonds and shares

: click here

---

Heel veel bedrijven worden beschreven in het Mededelingenblad van de VVOF-Vereniging van Verzamelaars van Oude Fondsen, dat al sinds 1978 4 à 5 maal per jaar uitkomt.

Inmiddels kunt U van ca. 1000 Nederlandse bedrijven de informatie aanklikken, die in dit VVOF-Mededelingenblad zijn verschenen !
---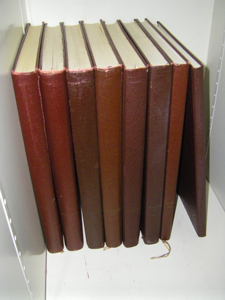 Nederlandsch Economisch Cultureel Archief
Complete set van 8 delen uit de jaren 1950, in wel 5 talen, met prachtig geïllustreerde beschrijvingen van alle belangrijke Nederlandsche bedrijven, die na de oorlog exporteerden, dikwijls met luchtfoto's van de bedrijfscomplexen en ander fotomateriaal.
Afm. der boeken, 29 x 39 cm. Omvang: deel 1: 458 p; deel 2: 447 p.; deel 3: 420 p.; deel 4: 442 p.; deel 5: 393 p.; deel 6: 407 p.; deel 7: 252 p.; deel 8: 214 p. Tesamen > 3000 geïllustreerde pagina's.
Deze boeken gingen de hele wereld over naar onze ambassades, consulaten en zakencentra ter bevordering van onze export.
Zie diverse foto's van de boek-inhouden: Vulcanus, Wilton Fijenoord, index met wereldkaart, Van Gend & Loos, Johan de Witt en J.C. de Jong, van der Linden en Veldhuis,
Zeldzaam: complete sets worden zelden of nooit aangeboden ! Prijs voor alle 8 delen, in bijna perfecte conditie: € 595 excl. verzending.
Prijs voor losse delen op aanvraag.
Aangezien deze complete set erg zwaar is en moeilijk te verzenden, kan het beter worden opgehaald in Haren (Gn), of - met wat geduld - in Loosduinen (Den Haag) of Arnhem.
---