---
HUGO VAN DER MOLEN'S
Scripophily site
a collection of historic bonds and shares
---
Rumania
(update: December 23rd 2013)

Dr. Hugo H. van der Molen - Wederikweg 114 - 9753 AE Haren, The Netherlands
Tel: +31 (0)50 534 8795; email: [email protected]
---
See page on explanations, sales conditions, costs of shipping and on how to order and to pay.
VISA, Euro-Mastercard & American Express accepted
postage and packing: Netherlands 5-7 Euro; Abroad: 7 Euro
You are here: home - scripophily - search by country - Rumania
---
Concordia, S.A. Roumaine pour l'Industrie du Petrole,
---------- action au porteur de 250 Lei, Bucarest, 1920, 7 Euro.
---------- action au porteur de 250 Lei, Bucarest 1924, 7 Euro
---
Creditul Minier


Zece actijni nominative representano suma de lei 5000, in the name of René Marcovici, Bucaresti, 1923; very decorative mining share certificate (ca. 20 x 35 cm + coupons attached) showing 2 work men and 4 engravings of industrial processes such as mining towers and an oil well spouting out oil into the air.

Price € 75.
---
---
Datoria Publica României,
---------- 5% state loan, 1920, 500 Lei,Very decorative: 3 vignettes, man with scythe in grain field, bay in cradle with woman spinning; village view with arch; watch towers), 2 Belgian Stamps, unfolded, very nice. Price 43 Euro.
---------- 5% state loan, 1922, 10.000 Lei, ca. 10 x 20 cm engraving of labourers harvesting grain, red prinmt, measures: ca. 25 x 30 cm.; unfolded, with coupon sheet attached in a corner with glue.Very decorative, tiny defects in right border, price € 43.
Foraj Lemoine, Ploesti 1923-26, price 5 €.
Holzgewinnung und Dampfsägen Betrieb vormals P.C. Goetz & Cie., established in 1884 Bukarest, gründergenussschein (= oprichtersaandeel / founder share), with orange stamp "Amsterdam 1941" and orange-blue /red imperial Stamping, price 57 Euro
In border 6 vignettes of factories, harbour with sail ships, waterroad, wood, wood-rafts and river landscape. Also weapon with crown and 2 lions.), printed by H.Engel & Sohn, Hof-Buchdruckerei und Hof-lithografie in Wien / Vienna
Imobiliara, SA Romana, Bucarest 8-11-1906, a beauty to frame !, price 68 Euro.
Beautiful large size share with in top and bottom large pictures of detailed city views with many buildings and street scenes. In the top also 2 large angels: a beauty to frame, orange/ violet.
Pétroles de Roumanie S.A., established in 1906 in Brussels, share of 100 Fr, 1921, price 5 €.
Pétroles Roumains, Société Auxiliaire des
Established November 5th 1920, Bruxelles, action de Capitale de 500 Fr. au porteur, 1923, print: J.Colassin & Co. du Borgval, 22 Bruxelles, red/orange border, green text on orange pattern, stamp from 1924 with a capital raise of 3 to 5 million, Price: 19 Euro.
---
---
Petroleum-Maatschappij "ORION"
te Ploesti (Roemenië), (tekst in Nederlands en Roemeens); opgericht 18-2-1910, Onder-Aandeel van 200 Lei, 1913, Nederlands oranje en Roemeens rood belastingstempel; groene sierrand, aanh. coupons, niet ontwaard, sorry, sold out ! / helaas uitverkocht !

Deze maatschappij is opgericht door de bekende Heerlense olie-industriëel Jan Koster (1875-1935), die met dit bedrijf later aansluiting zocht bij de Phoenix Oil and Transport Co. , waarvan hij bij oprichting vice-president werd. In 1918 was hij via zijn bedrijf Mijnbouwkundige Werken één van de mede-oprichters van het Hoogoven Staalbedrijf in Ijmuiden, waar hij commissaris werd.
English: Petroleum-Maatschappij "ORION" was established by the Dutch entrepeneur Jan Koster (1875-1935), who merged the company later with Phoenix Oil and Transport Co, where he acted as vice-president from the start. Through his company Mijnbouwkundige Werken he was one of the founders of the Hoogoven Staalbedrijf in Ijmuiden (Steelworks in Ijmuiden).
---
---
Regatul Romaniei Ministerul Finantelor Datoria Publica Impruntul Intern 5% din 1920
Titulo de 1000 Lei, Bucaresti 1920; ca. 18 x 22 cm; coupon sheet attached with glue; 3 nice engravings of a mining complex, a village scene and a country scene with a woman sitting under a tree spinning while watching her baby in a craddle. Price € 25.
Rumanian state loan, 1929, 4 % 500 Lei, bukarest, yellow, price 12 Euro
4 vignettes: eagle, weapon, woman with sheaf of corn and small scythe, woman with sword and shield)
Rumanian state loan, 1929, 4 % 500 Lei, bukarest, green, price 12 Euro
4 vignettes: eagle, weapon, woman with sheaf of corn and small scythe, woman with sword and shield)
Rumeensche Petroleum-Matschappij "Amsterdam"
(Engl.: Rumanian Petrol Company "Amsterdam")
Amsterdam, 1897, oprichtersaandeel ( Engl.: founder share) , rechtgevende op 1/250e deel van de voordelen der oprichtersaandelen, # issued = 250 (rare !), Typ. en Lith. J.H. de Bussy, Amst.; afm. 25 bij 17 cm.; groene tekst en sierrand; condition EF: one fold and a little brownish on right border, complete coupon sheet attached, originally undersigned by director H. van Marle, price 50 €.
The company was extracting petroleum at Campina Poiana in the district of Prahova.
Societatea Anonima Romana de Telefoane
Tituli de 5 actiuni nr. 018285, 5.000 Lei, Bucaresti 1938, blue border, unfolded, small defect in left border, measuring ca. 20 x 30 cm., coupon sheet attached, Price, € 10.
Société Anonyme Roumaine pour l'industrie du Pétrole
Action de 250 Fr, Bucarest 1920, violet, price 7 €.
---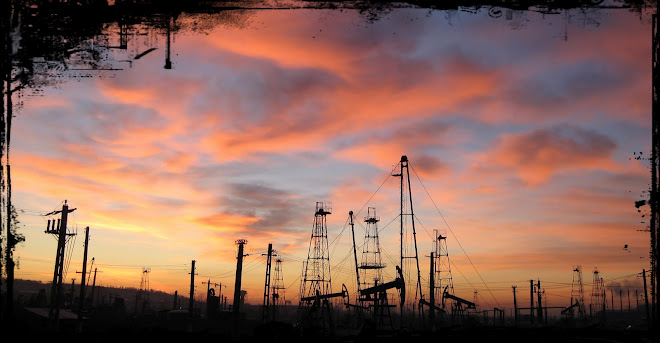 For a short history and scripophily of Rumanian oil wells, click here !
---
See page on explanations, sales conditions, costs of shipping and on how to order and to pay.
You are here: home - scripophily - search by country - Rumania
---