---
HUGO VAN DER MOLEN'S
Scripophily site
a collection of historic bonds and shares
---
Spain
(update 1 juli 2020)

Dr. Hugo H. van der Molen - Wederikweg 114 - 9753 AE Haren, The Netherlands
Tel: +31 (0)50 534 8795; email: [email protected]

en Facebook of Linkedin
---
See page on explanations, sales conditions, costs of shipping and on how to order.
You are here: home - scripophily - search by country - Spain
Agricultura y Ganadería S.A.
Vilanova de la Muga, Gerona, Spain; share of 50 Pesetas, 1929, Yellow paper with brown print; measures without coupons: ca. 20 cm high and 34 cm wide; with 6 rows of dividend coupons (only 3 of which are shown here): ca. 37 cm. high; The share is unfolded, but the coupon sheet is; Price: 495 Euro.
This company was established on February 6th 1929 in Figueras before notary public D. Salvador Dalí y Cusí, father of the famous surrealistic painter Salvador Dali, who spent his youth in Figueras and went to school there with the Maristen brothers.
Banco de Cartagena
Cartagena, Spain, 1900; Accion al Portador De Quinientas Pesetas (bearer share of 50 (?) Pesetas); Print by Arnoud - Lyon / Paris; 20 by 10 cm black engraving of the famous painting Mercurio y Argo (Mercury and Argos) by D. Velasquez (1599-1660); VF+: one faint middle fold with a 1 cm tear in left border (on the fold, but hardly visible; a few small wrinkles in left upper border); 125 Euro.
The picture shows the god Hermes (L: Mercury) drawing his sword in order to decapitate the shepard who guarded princes Io, who had been transformed into a white cow by Zeus (L: Jupiter). Read more about this fascinating myth !
When Velasquez was commissioned to do the interior decoration of the famous Alcazar palace, he made 4 paintings with mythological subjects. Only this painting was preserved, now hanging in the Prado museum in Madrid.
Baños y Sports Maritimos
Barcelona, Spain, established in 1915; ca. 27 by 18 cm; ca. 23 by 9 cm. engraving of seaside resort, beach facilities and harbour and mountain of Barcelona; red / green / black; a beauty to frame ! all condition EF: unfolded, coupons attached;
---------- 1921; capital 600.000 pesetas; Accion (share) of 500 Pesetas; print: Tip. Editorial Perelló, Barcelona; 4 stamps regarding capital and name changes etc.; price 43 Euro.
---------- 1925; capital 1.500.000 Pesetas; Accion (share) of 500 Pesetas; print: Industrias Gráficas, Barcelona; only 2 stamps regarding name changes etc., price 43 Euro.
Barcelona Traction, Light and Power, warrant for 1 share of $ 100, issued in Canada 1913, price 23 Euro. See text in Dutch about the company
Beautiful vignettes of Columbus statue, a tram and the Avenida general Franco .
Vignetten van het standbeeld van Columbus, een tram en de Avenida general Franco.
Biarritz-St-Sébastien-Tolosa, SA de Tramways Électriques, established 21-3-1910, Brssels, Belgium, Part de Fondateur, print: Typ-Lith.La Cote Libre, Br., In the blue decorative border 5 black coats of arms of Tolosa, St Jean de Luz, Biarritz, Irun and St Sébastien and a 11 by 4,5 cm map of the coast of France and Spain at the Golf de Gascogne, showing many cities between St Sebastien and Bayonne, and rivers; large red stamp + 1 red and 1 blue small tax stamp,
----- EF, unfolded, 75 Euro
----- VF-, some wrinkles and stains, 34 Euro.
---
---
Carbonell y Cia de Cordoba, S.A.,
6,95 % bond of 1000 peseta's to bearer, Cordoba, 1963, (the famous olive oil firm), condition EF: 2 wrinkles that can be seen on scan are hardly visible in reality, price 50 Euro.
Nederlands: Carbonell maakt de bekende olijfolie (zie het bekende flessenetiket). Cordoba, in zuid-Spanje, is een belangrijk centrum van olijf-verwerking en ligt temidden van zeer uitgestrekte gebieden met olijfboomgaarden. Op RTL4 sponsorde Carbonell - als reclame - tijdens de lente van 2002 het weer. Dat gaf weer aanleiding tot humor: zie cartoon over Carbonell sponsoring !
English: Carbonell produces the famous olive oil (see the brand label). Cordoba, in Southern Spain, is an important centre of olive oil industry and olive yards.

Compania de las Hulleras de Ujo-Mieres, certificate of 1 share of 25 gold pesetas, Ujo, Asturia, established in 1904, black vignettes on ocre background, text in French and Spanish, 66 Euro.
Formed in 1904 to acquire the Asturias mines of Ujo-Mieres and Riosa. Long format with 2 large and impressive pictures: 1 of coal miners, busy at work under ground (19 * 11 cm) and 1 with surface workers loading the coal into trucks and women carrying coal on their heads (19 * 8 cm). A beauty to frame !!!
Compañia Española de Minas del Rif S.A., Madrid, share of 50 Psts, 1928, (vignette: nice armour; and golden David star in relief print), beautiful quality price, with separate coupon sheet: price: 43 Euro; lesser quality but still very good, no coupon sheet: price 23 Euro. See picture.
Compañia Franco-Española de Petroléos, 1 accion à Pts 500, green, San Sebastian 1921, price 45 Euro; Beautiful 9 by 7 cm vignette of oil industry.
---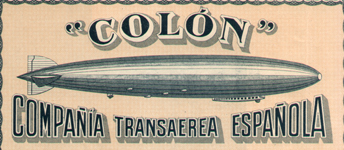 Companiá Transaerea Española "Colón"
Established in 1922; Bono de constucción al portador (founder share to bearer), Madrid, may 24th 1928; Lith.: Grijelmo S.A., Bilbao; ca. 23 x 33 cm + curved left security border + attached coupon sheet with 9 coupons, uncancelled; very nice large engraving of a ZEPPELIN; Colón = the Spanish name of Columbus, the captain who discovered America in 1492).
condition EF: no folds, price € 95.
condition VF +: one or 2 light folds: You will buy a different serial number, but of similar condition as dispalayed here: price € 50.
Read more about the history of ZEPPELINS and see some nice postcards of Zeppelins.
---
---
Electricidas Reunidas de Zaragoza S.A., Zaragoza 15-10-1966, Accion al portador, 500 pesetas, printed by lerchundi SA, Bilbao, beautiful stock, see picture, large size, 28 by 38 cm. including coupons and picture under in the stock of a view of Zaragoza, the Rio Ebro and a map of the city with links to other cities. Vignette on the stock of a beautiful palace, 8 by 5 cm, EF, unfolded, 50 Euro.
Europa S.A., Compania Espanola de capitalization, Madrid, green/black (blankette), 19.., vignette: map of Europe en Goddess with wings, without any attribute , however, see picture. 34 Euro.
Fomento de Obras y Construcciones SA, Barcelona 11-6-1970, price f 95 = 43 Euro.
It is a building company and on the stock is written what they make: minas, diques, paseos y jardines, canals y puertos, caminos, cloacas etc. , beautiful share, large size, in blue, green, ocre and black with large vignette of a labourer in the mountains.
Hercules Films S.A., Madrid, 30-4-1941, acciones al portador serie A, de 500 Ptas, black and white, # = 4.010, EF, 43 Euro.
Small vignette of globe with film twisted around it.
Hidroelectrica Espanola SA, Madrid
share of 500 Ptas, Madrid 29-7-1965, price 75 Euro.
Beautiful large vignette (23 * 12 cm) in black and white of the God mercure (L.) / Hermes (Gr.) holding 7 horses on a chain before a waterfall with factory. At his feet a horn of affluence. May be the horses refer to "horsepower" ?. The border is yellow with a red printed seal.
Industrias Textiles Extremeñas SA (ITESA), Badajoz, 31-5-1960, blu eborder, grey and red text on yellow field, UNC with coupons, 15 Euro
---
---
La Hispano Suiza Fabrica de Automobiles S.A., Barcelona, 12-9-1940, 8th emission, share of 500 Pesetas, VF-EF, 300 Euro
See beautiful illustration of the famous Italian actress teresa Mariani, favourite model of tyhe famous Spanish artist and portraitist Ramon Casas (1866 - 1932).
Read more about this very famous automobile company !
Junta del Puerto de Barcelona, Emprestito de 300 million Ptas, bond of 1000 Ptas, 30-3-1948, series B, green/black, large size (22 by 43 cm.), 14 by 7 cm vignette of the harbour, city and mountains, price 23 Euro. See picture
Junta del Puerto de Barcelona, Emprestito de 300 million Ptas, bond of 1000 Ptas, 30-3-1948, series C, yellow/black, large size (22 by 43 cm.), 14 by 7 cm. vignette of the harbour, city and mountains, price 23 Euro
Los Certales, S.A.,
Railroad construction firm, beautiful condition, no folds, thick paper with beautiful decorated border: very decorative piece.
share of 1000 Psts, Madrid 1947, price 11 Euro.

Nuevo Madrid S.A
established in 1941; Accion (Engl.: share) de 500 Pesetas, Madrid (Spain), 1946, size: 23 by 32 cm. + coupons; 22 by 31 airial view of the cituy as planned, in blue, coupons attached, unfolded, EF, price 45 Euro.
Sanatorio Médico Granadino S.A., established in 1961, Granada, share of 1000 Psts, 1973, picture of sanatorium, overstamped, unfolded, price 23 Euro
Sociedad Andaluza de Cementos Portland S.A., establ. in 1920, Sevilla, share of 500 Psts, 1967, (loosely drawn black border with 3 vignettes: the factory, Torro de Orro / Gold tower of Sevilla, fortification), price 22 Euro
Sociedad Forestal Española, Barcelona, 1905, share of 250 Psts (vignette, 4 by 3,5 cm of 2 wood cutters and 2 sawers in wood), price 34 Euro
Sociedad Jareño de Constructiones Métalicas,
established in Madrid, 1913, share of 500 Pt,
On the front side a Beautiful 14 by 20 cm large pink picture of forger at work, and at the inner side of the share a 7 by 2 cm drawing in black of the factory; beautiful for framing; price 245 Euro.
---
You are here: home - scripophily - search by country - Spain
en Facebook of Linkedin
---
.