---
HUGO VAN DER MOLEN'S
Scripophily site
a collection of historic bonds and shares

---
Latest acquisitions / Laatste aanwinsten: USA
(update: May 29th 2022)

Dr. Hugo H. van der Molen - Wederikweg 114 - 9753 AE Haren, The Netherlands
Tel: +31 (0)50 534 8795; email: [email protected]

en Facebook of Linkedin
---
See page on explanations, sales conditions, costs of shipping and on how to order and to pay.
Paypal accepted

You are here: home - scripophily - latest acquisitions - USA

Maak een bladwijzer naar deze pagina om regelmatig aanbiedingen na te gaan !
---
USA
---
10-12-2021
Shell Oil Company
Incorporated in Delaware, USA
Certificates measuring ca. 21 cm x 30,5 cm (one inch is ca. 2,5 cm).
No longer Royal Dutch for Shell Plc.
TodDec. 10th 2021, shareholders agreed to move the headquarter and fiscal base of Royal Shell Plc. from The Hague (The Netherlands) to London (UK).
The UK does not know a 15% dividend tax like The Netherlands do.
Shell was formed in 1907 through the merger of the Royal Dutch Petroleum Co. (Koninklijke Nederlandse Petroleum Mij.) based in The Netherlands, and the Shell Transport and Trading Company.


Shell Oil Company is its principal subsidiary in the USA.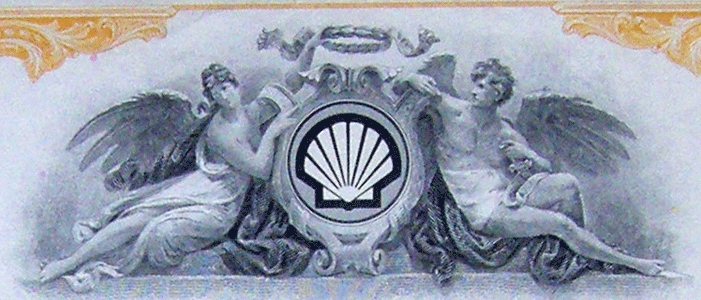 Vignette: Shell logo (= a shell) flanked by 2 sitting allegorical figures.
Orange border:
--------- certificate of < 100.000 shares, SX 9064, 1980, unfolded, small staple traces, Price € 25

---

Vignette: Shell logo (= a shell) flanked by 2 standing allegorical figures
Brown border
---------- 8,75 % debenditure , 1979, staple traces, Price: 25 Euro
---
20-11-2021

New York Central Railroad Company
(with an engraving of the owner, the extremery wealthy Cornelius Vanderbilt (1794 - 1977)



As the certificates are slightly larger than my A4-scanner can cover, the borders are not completely scanned, but perfectly intact unless specified otherwise.
----------1937, certificate of < 10 shares, brown border, condition VF: 1 horizontal fold, some wrinkles, hole cancellation, tiny cut in right lower corner, Price: € 25.
----------1940, certificate of 100 shares, blue border, codition VF: unfolded, small wrinkles, various tiny staple holes, cancellation holes and cancellation characters, Price: € 25.
--------- 1944, certificate of 100 shares, blue border, codition VF: unfolded, various wrinkles, cancellation traces and cancellation characters, very small border defects, Price: € 20.
---------- 1945, certificate of < 10 shares, brown border, condition VF: unfolded, some wrinkles, hole cancellation and cancellation characters, purple stripe and circle, Price: € 15.
Zie hier de kaart met spoorlijnen (see maps) van de New York Central Rairoad
Bij zijn dood liet Vanderbilt $ 100 miljoen na, een negende van de totale Amerikaanse geldhoeveelheid ! (over vermogensongelijkheid gesproken !)
Dat fortuin werd door zijn zoon Billy nog verdubbeld. Zijn nazaten gaven het allemaal uit, wat beschreven wordt in Anderson Cooper's boek (2021) The Rise and Fall of an American Dystany.
---
11-11-2020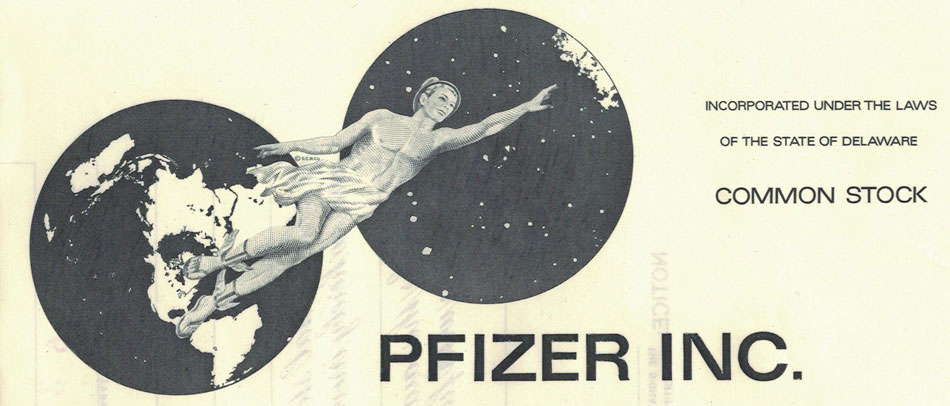 Pfizer Inc.

Certificate of 100 shares, Delaware, USA, 1972,
with engraving of the Roman god Mercury, (Gr. Hermes, NL, Mercurius) flying high; ca. 20,5 x 30,5 cm; condition VF, several folds and some wrinkles in the upper corners. Price € 50.
Pfizer is not only well know for it's Viagra erection pills, but als for being the first to produce an effective vaccin against the Covid-1 corona virusin november 2020.
---
15-9-2019
Croton Water Main Stock, city of New York.

Klik op de foto's voor vergrotingen
A painting by Augustus Fay of the Croton Water Reservoir in New York from 1850, in what would soon become Central Park.
Certificaat No. 48voor een Kapitaal van $ 400, rentende 7%, uitgegeven in Amsterdam, 27 juli 1871 door Hope & Co., Ketwich en Voombergh en Weduwe Willem Borski, losbaar in 1900. De sierrand heeft als beveiliging het zgn. muzieknotenschrift, ontwikkeld door drukkerij Johan Enschede & Zonen. Conditie: UNC, geen gebreken / drukfris, prijs € 99.

Translation:
Certificate no. 48 for a Capital of $ 400, bearing 7% interest, issued in Amsterdam on July 27th 1871 by Hope & Co., Ketwich and Voombergh and the Widow Willem Bosrski, redeemable in 1900.
The certificate is in mint condition (UNC), border with so called "music note" border, a type of security print by the famous Joh. Enschede and Sons in the Dutch city of Haarlem.
Original signatures of the Widow W. Borski, Ketwich and Voombergh and Hope, the famous ancient Dutch broker-house; See picture; price 99 Euro.
Lees meer over dit gigantische waternetwerk en bekijk de foto's van aquaducten, kanalen, dammen en reservoirs.
Some history:
We take water for granted today. But before the 1830s, citizens relied on cisterns to collect rainwater or a series of city wells drilled down to bubbling, underground springs. But these sources were spreading disease and were clearly inadequate for a city whose international profile was raising thanks to the Erie Canal. One of the great challenges faced by a growing, 19th-century New York City was the need for a viable, clean water supply. The solution lay miles north of the city in the Croton River. New York engineers embarked on one of the most ambitious projects in the city's history — to tame the Croton, funnelling millions of gallons of waters through an aqueduct down to Manhattan, where it would be collected and stored in grand, Egyptian-style reservoirs to serve the city's needs. The water company was located on the site where Manhatten has been built and in what would soon become Central Park. Read more and see pictures of these complex waterworks.
---
August 22nd 2019
Wisconsin Investment Corp.,
Wisconsin Investment Corp., 1930, 100 shares, orange border, large vignette of Justice Lady between 2 detailed globe-halves.
Left border cut of, leaving less white than normally, hole cancelled through signature, punched character cancellation,

Price 25 Euro.

<----klik on pictures for enlargements --->
---
May 9th 2019
Monsanto Co.

Producer of chemicals, herbicides and herbicide resistant plant seeds.

There has always been much upheaval about their pesticide Roundup, containing Glyfosaat that may cause cancer. Still, Roundup is the most widely used herbicide: 160 countries have given permission to sell it for use in agriculture and private house holds.

According to some Monsanto is the "most hated company in the world".
Monsanto was bought by the German chemical and pharmacy company Bayer for the enormous amount of $ 63 billion, in May 2018.

Included in the deal were almost 10.000 legal claims from USA citizens fallen ill, supposedly due to the use of Roundup.

One claimant in California, suffering from Lymfe cancer, was awarded a compensation of $ 289 million by a judge.

In the first year after the acquisition of Monsanto Bayer stocks have fallen some 40% because of these claims and Bayer share holders appeared very unhappy with the situation at the annual shareholders meeting, spring 2019.

Source: Financieel Dagblad-FD, december 21st 2018.
----- 1970, 9 1/8% Sinking Fund Debenditure of $ 10,000 due in 2000, yellow border, engraving without any figure stamps, price € 25.
----- 1978, 8,5% Sinking Fund Debenditure due in 2000 for the amount of odd $ = $ 5,000, olive border, figure stamp on the right of the enraving, staple trace in top of the engraving, price € 20.
----- 1980, 8 3/4% Sinking Fund Debenditure due in 2000 for the amount of odd $ = $ 100,000, red border, figure stamp in lower part of the engraving, price $ 10.
----- 1977, 9 1/8% Sinking Fund Debenditure due in 2000 for the amount of odd $ = $ 100,000, blue border, figure stamp right through the engraving, price $ 10.
---
March 3rd 2018

United States Steel Corporation

click for enlargement of this engraving of a steel plant interior -------------->
NB: scans do not cover all white borders as the certificates are larger than my A4-scanner.


----- 1947, certificate for < 100 shares, green border; condition; 2 small brown stains in left border, price € 20.
----- 1947, certificate for 100 shares, red border, condition: minor border defects; upper whit border cut off one mm., price € 20.
----- 1947, certificate for < 100 preferred shares, olive border, ; on the back 2 stock transfer stamps and one documentary stamp, condition: pinhole in the middle of the engraving, price € 20.
---
May 27th 2017
Baker International Corporation

Stock certificate for less than 100,000 shares, 1978

With a vignette of an oil worker holding the company's product in front of a refinery and oil fields. Baker name is placed across a globe of the earth.


<-- Click on photo for enlargement. The white left border is not scanned due to the small scanner.
- share certificate Nr. L8652, price € 15
- share certificate Nr. CM22625, price € 15
Some history of tehe company:
- Mr. Baker had arrived in the California oilfield in 1895 with 95 cents in his pocket and dreams of making his fortune in the Los Angeles oil boom. Subsequently, he hauled oil for drillers with a team of horses and became a drilling contractor and an oil wildcatter before achieving success as an innovator in oilfield equipment.
- In July 1907, Reuben C. Baker, a 34 year-old inventor and entrepreneur in Coalinga, California, was granted a U.S. patent for a casing shoe that enabled drillers to efficiently run casing and cement it in oil wells, what revolutionized cable tool drilling.
- On March 26 1913, Baker formed Baker International Corp., incorporated in California, as is indicated in the seal of the 1978 share cerificates.
- In 1928, Baker Casing Shoe Company changed its name to Baker Oil Tools, Inc., to reflect its product line of completion, cementing and fishing equipment.
- In early 1956, during one of the most successful periods in the company's history, Reuben C. Baker retired as President of Baker Oil Tools. A few weeks later, he died after a brief illness at the age of 85 and was succeeded by his long-time associate Ted Sutter.
- Baker formed Baker International Corp., incorporated on March 26 1913 in California, as is indicated in the seal of the 1978 share cerificates.
- In 1987 Baker International acquired and merged with Hughes Tool Company to form Baker Hughes Incorporated.
- Shortly after in 1992 Baker Hughes acquired Christensen Diamond Products and merged it with Hughes Tool Company to form the drilling and evaluation division, Hughes Christensen.
- Baker Hughes is one of the world's largest oilfield services companies. It operates in over 90 countries, providing the oil and gas industry with products and services for drilling, formation evaluation, completion, production and reservoir consulting.
- In November 2014 Halliburton proposed the acquisition of Baker Hughes, which would unite the second and third largest U.S. providers of oil field services. Baker Hughes' board of Directors accepted the offer, a merger deal valued at $34.6 Billion.
- INTEQ also originally incorporated the drilling fluids division of Baker Hughes which consisted of Milpark and others. This division was called 'INTEQ drilling fluids' which provided the premier brands in oil and gas well drilling muds and wellbore cleaning fluids.

(I realise that you may find several apparent inconsistencies in the above. Any corrections in this history would be appreciated: mail to me here )
Source: OldStocks.com (Eric Drum), May 27th 2017.
December 9th 2016
Eckmar corp.,

incorporated in Delaware in 1967, it was a specialty store,the only department store selling exclusively Christmas articles, all year round.

Delaware,1969, certificate of 100 shares, orange border, 23 Euro

The Vignette shows stylized holiday items, including a Christmas tree, ornaments, a reindeer and gift boxes.

Price: € 23

July 8th 2016
Ewing Oil Company,




----- Dallas, Texas, 1980, fake certificate of 100 shares, brown border, This certificate is just a momento of the TV soap Dallas; the company did not exist in reality. It shows a portrait of JR Ewing and oil drill towers, measuring ca. 30,5 x 20,5 cm; price € 30.
June 22nd 2016
Atari Corporation

Certificate of odd shares (500) in the name of Warren A. Gordon, Nevada (USA), 1996.

Condition VF: various faint vertical folds, tiny staple traces.

Price: € 50
March 25th 2012
Argonaut Mill & Mining Co.

Incorporated, june 18th 1879 in San Francisco;Capital stock 2 million $ (20.000 shares of 100$); certificate nr 129 (in blue figures) of x = 100 shares, dated January 7th 1880, in the name of John Sproston Jr., who endorsed the certificate on the back in order to have it registered in the companies book after handing over this certificate.Small size (10 by 24 cm) and on pink paper. Original signatures of secretary (Fields ?) and director (Davenput ?); Litography by Britton & Rey S.F.; Above the lower border it reads Eldorado Co., Cal.;

Price: 250 Euro.

See this certificate and it's Beautiful 6 by 4 cm vignette of the mythological ship the ARGO, the famous and heroic crew of which were called the ARGNAUTS. See the story of this famous journey led by Iason, who went out to get the Golden Fleece, and also have a look at a map of their journey. Now, the videorelease can be hired of the beautiful 1999 film (172 minutes !) "Jason and the Argonauts". It covers only half the journey described here, but is an adventure film worth seeing !
Adventurers who went to California in search of gold soon after its discovery there in 1848, were called Argonauts, so I take it that the Argonaut Mill and Mining Co. was a gold mining and processing company.
January 8th 2012
Lockheed Aircraft Corporation,
4,25% convertible, subordinated debenditure, 1967, due 1992,

Vignette: female goddess Hermes (L: Mercury), in the nude, binding under her shoe with wings;

condition UNC (print fresh, with hole cancellation, SPECIMEN, price; 195 Euro.

Founded in 1926 by Allan Loughead ( later the name was legally changed to Lockheed ) and his brother Malcolm, the company was bought by Detroit Aircraft Corporation in 1929, only to have the parent corporation file for bankruptcy in early 1932. Later that year, on June 21, 1932 a group of investors led by Robert E. Gross purchased the bankrupt Lockheed Aircraft Corporation for $42,000. The advent of World War II began the company's business as a defense contractor by beginning with the P-38 Lightning bomber and still continues as a primary contractor for U.S. defense aircraft as Lockheed Martin Corporation (source: scripophily.com, January 8th 2012).

---
Hughes & Hatcher, Inc.,
Incorporated in 1946 in New York, the company had a chain of clothing stores.
The certificates have a 4,5 x 5.5 cm. engraving of a Roman man wearing a helmet beautifully decotated with horses and a plume.
---------- orange 1975; certificate of < 100 shares, blue and red stamp over the text, but not over the vignette, price 23 Euro
---------- blue, 1975 , certificate of 100 shares, price 20 Euro.
---
December 19th 2010
Gemeenschappelijk bezit van aandelen Philips' gloeilampenfabrieken (Pilips N.V.),
Eindhoven, The Netherlands, 1970th, transferable in New York, measuring 30 x 20 cm.; beautiful engraving (8 by 5 cm) with Philips logo, symbols of electronics, chemistry, audio etc.
----- green border, 100 shares, hole cancelled, unfolded, with signatures of Frits J. Philips (CEO from 1961-1971) and Frans Otten (CEO from 1939-1961), price 50 Euro.
----- blue border, < 100 shares, hole cancelled, unfolded, signature of Frits J. Philips (CEO from 1961-1971), price 50 Euro.
---
September 6th 2010
New England Oil Corp, green, certificate of 100 shares, 1921, laws of Virginia, USA, print ABNC, dark green border on light green; "'COMMON"' in red print, cancelled, origin. sign. of president D. Cox and treasurer Samuel Vaughan; in the name of Louis Rosenfield; 2 small rusted staple holes, cancelled. Price: 25 Euro.

United Cigar Stores Company of America
New York, 1928 (orange), Dividend Certificate for less than 100 shares of common stock, series B - dated April 16, 1928; print: ABNC; hole cancelled, several small staple traces; price € 23.
---
September 6th 2009
Kreuger & Toll Company, Sweden,
----------> 5% secured sinking fund gold debenditure f $ 1000, New York, 1951, orange decorative border on orange field, unfolded, several staple holes; price 23 Euo.
<---------- Class A certificate of deposit for US $ 500 in a 5% sinking fund debenditure, in the name of K.P. Manus, Rokin, Amsterdam (his name is written with pencil in the upper border and his original signature can be seen on the back side), issued in New York on April 10th 1939, but it has an orange printed Dutch taxstamp. Printed by ABNC, olive border, condition VF: treaces of use, but no tears, price € 35.
August 25th 2009
Hospital Corporation of America,
Nashville, Tennessee, USA,
Vignette of Hippocrates and a woman flanking a shield with a Caduceus (Hermes staff, having 2 snakes around a staff). Surprisingly it is not the Aesculapius sign, used by doctors, which has only one snake around a staff. On the other hand the 2 snakes of the caduceus are associated with healing powers as well, see text about the CADUCEUS (in Dutch) or the web page on Mythology on stocks. On the other hand, HCA means big business as well, see a text page in English on this company.
----- certificate of 100 shares, green, 1972, condition VF: very nice, but a very small tear in the upper border white, price: € 25.
----- certificate of 100 shares, green, 1972, VF, but small staple tear right through the face of Hippocrates, price: € 10.
June 18th 2009
Criswell no. 175 (not listed in Ball); rarity 10 = very rare.
Scrip Certificate for X US $: (handwritten: 10.000 $) issued by the National Safe Deposit Company Ltd. for holding of confederate bonds, London, 1887; measures ca. 22 x 21 cm., one penny red printed tax stamp; condition EF: folds nor tears but a litle brownish on te left upper left; price € 75.
---
---
April 23rd 2009
Li'l Darlin's of the West Bordellos, Inc.
"Doing Business with Pleasure", certificate no 1011 (blankette); This certifies that the Bearer owns one share of UnCommon Stock of Li'l Darlin's of the West, Bordellos, Inc.;
paper Gold Seal, green border, small black vignette of sitting lady with high heel shoes, condition UNC = printer fresh, price 95 Euro. Order now !
This certificate comes with a 4 page "prospectus" (see cover and inner side) and a 25 x 20 cm (10 x 8 inch) colour photograph of six "pleasure consultants".
As the bearer of this certificate has not been filled in yet, this certificate would make an excellent and original gift at any bachelor's party.
April 21st 2009
Playboy Enterprises, Inc.;
Beautifully engraved certificate, printed by the American Banknote Company with a vignette of the nude Miss February 1971, Willy Rey and the Playboy bunny logo. This item has the printed signature of the Company's Chairman of the Board, Hugh Hefner. This certificate for 1 share was issued in 1976 to Hendrik Ory, Standaardmolen64 in Amsterdam. Condition EF, unfolded, price € 300. Order now !
The stock proved too popular for the company's good: so many people purchased one share and took delivery of the certificate that Playboy was spending a fortune sending out annual reports and dividend checks. They issued a more modest new certificate and did a reverse split to call all stocks back in (for two old Playboy shares you were given one new Playboy share; otherwise you got cashed out) . If you didn't send the stock, you lost your shares. The old piece of paper is still worth a lot more than the current live stock.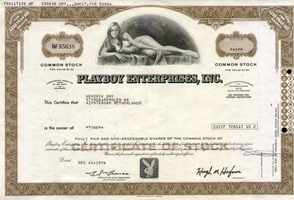 click for enlargement
click here for the Playboy centerfold of February 1971, depicting the nude Willy Rey. Comparison with the stock shows that, although this original centerfold is depicted on the stock, Willy Rey has been given more and longer hair on the stock, thus revealing less.
---
April 8th 2008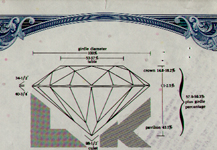 click to enlarge

Lazare Kaplan International Inc.
Delaware, USA, 1978, certificate of 100 shares, blue border, unfolded, but various staple traces. The company is listed on the AMEX exchange under code LKI.; price €50.
---
---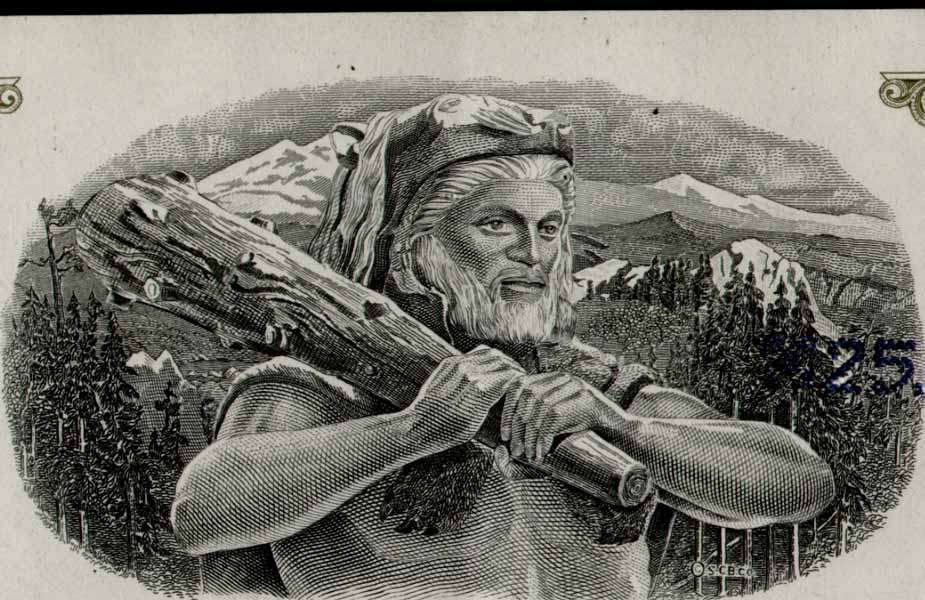 March 14th 2008
Hercules Incorporated
Inc. under Delaware law, USA, in 1912; head quarters in Wilmington, Delaware, now a world wide operating chemical company (www.herc.com) with also a facility in Zwijndrecht, The Netherlands; 8,75 % odd $ note, 1976, due 1983; olive border, print: Security-Columbia Banknote Co.; 9 by 5 cm engraving of the Greek hero Hercules, wearing a lion's had as a head cap and a club on his shoulder; facsimile signatures by S.R. Clarke (treasurer) and Werner C. Brown (?) (president), price € 95.
---
February 5th 2008
Bethlehem Steel
Wilmington, Delaware; certificate of 10 ordinary shares, each of $8 nominally, issued in Amsterdam in 1978 (Text entirely in Dutch). Issued by de "NV maatschappij tot beheer van het administratiekantoor van Amerikaanse fondsen, opgericht door Broes en Gosman, Ten Have & Van Essen en Jarman & Zoonen" Amsterdam (a stock administration office); print by Joh. Enschede & Zonen, Haarlem; 25 by 18 cm., brown border, unfolded, but many wrinkles; hole cancellationsthrough original signatures; price 10 Euro.

January 2nd 2008: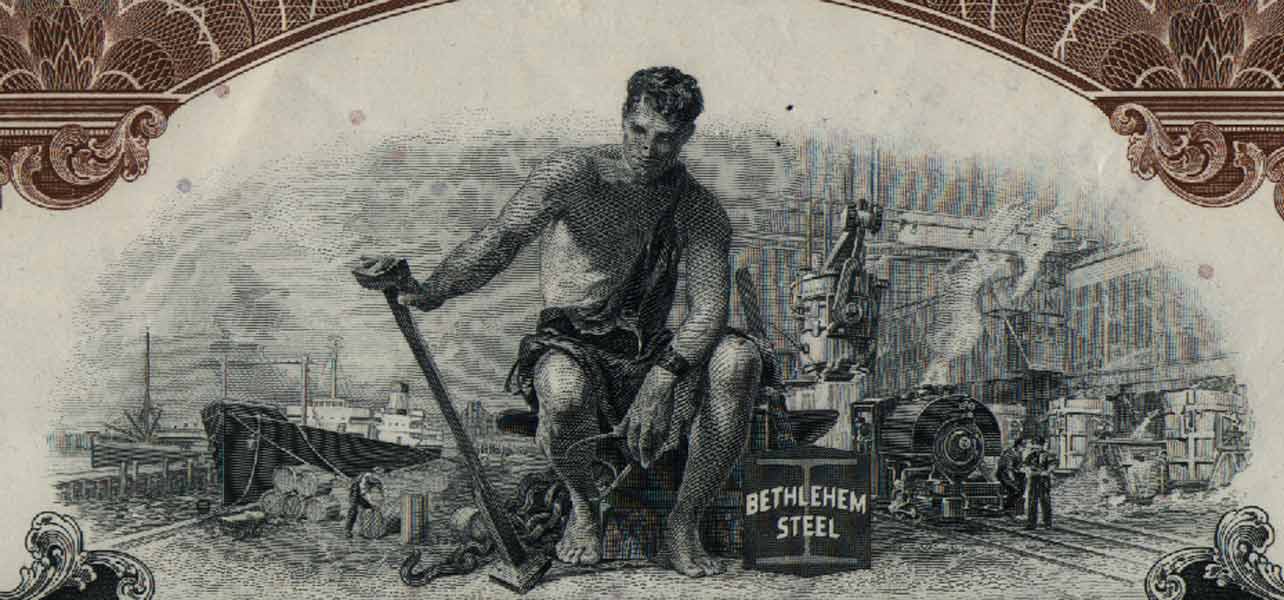 Bethlehem Steel Corporation
Incorporated in 1919 in Delaware; Read the history !
Certificate of 100 shares, 1967, brown border, engraving of a man sitting in a harbour; price: 95 Euro.
---
---
(June 3rd 2007)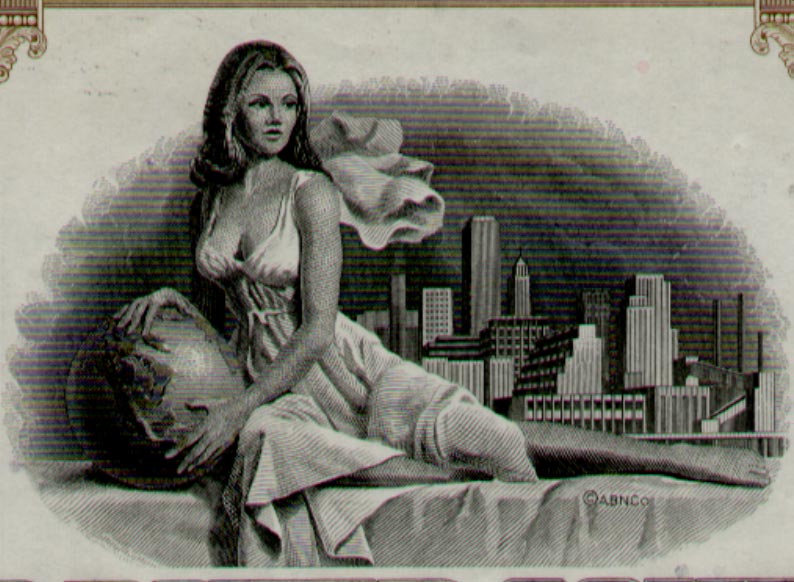 This engraving of the American Banknote Company is depicted on stocks of the Appalachian Power Co., BT Mortgage Investors and the Ohio Power, Co.

Appalachian Power Company
- 1971 , green border, 100 shares, price 25 €
- 1971, brown border, < 100 shares, price 25 €
- 1987, orange border, 8 3/4% bond due 2017, cancelled, price 25 €
- 1989, purple border, 10 1/4 % bond, due 1997, cancelled, price 25 €
BT Mortgage Investors
Massachusets,
- 1971 (orange border) , < 100 shares, orange, various staple traces, 15 Euro
- 1971 (blue border), 100 shares, various staple traces and damage, 10 Euro
Ohio Power Company
- 1971, brown border, 7,72% cumul. preferred. stock, price 25 €.
- 1971, red border, < 100 shares, price 25 €
-1971, blue border, 100 shares, price 25 €
---
You are here: home - scripophily - latest acquisitions - USA

en Facebook of Linkedin